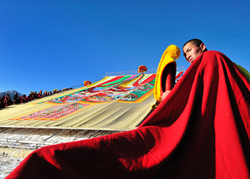 Follow the guide of Tibet Travel Org CITS to experience the unique culture and customs on the roof of the world.
Tibet (PRWEB) April 02, 2014
With the peak tourist season drawing near, Tibet Travel Org CITS announces the dates for popular Tibetan festivals in 2014, which will tremendously help those who plan to visit Tibet this year.
Summer and autumn are widely considered as the best time to visit Tibet. Travelers can not only enjoy beautiful natural scenery, but also have many opportunities to celebrate traditional festivals with locals. The following festivals are quite popular among tourists at home and abroad.
1. Gyantse Dama Festival
Date: June 8, 2014
Dama Festival, also called Horse Racing Festival in Gyantse, has a history of over 600 years. It was listed as a national intangible heritage in 2008. The weeklong festival is celebrated with competitions of horse riding, yak racing, horseback archery, wrestling, stone lifting, tug-of-war and folk performances. It is also a great opportunity for young girls and boys to get to know each other.
2. Saga Dawa Festival
Date: June 13, 2014
Saga Dawa is the most important religious festival in Tibet. It celebrates Buddha's birth, enlightenment and entry into Nirvana at his death. Tibetans believe that merits of performing religious practices are multiplied on this festival. Travelers will see groups of pilgrims worshipping sacred sites. As 2014 is the holy year of horse in Tibetan calendar, people will go to worship sacred mountains in particular, like Mount Kailash in western Tibet. It usually takes around half a month to do a Kailash tour.
3. Tashilhunpo Thangka Festival
Date: July 10-12, 2014
As the seat of Panchen Lamas, Tashilunpo Monastery is one of the most significant monasteries in Tibet. Its three-day long Thangka Festival is different from those held elsewhere. Thangkas of three different Buddhas, including Dipankara (Buddha of the Past), Shakyamuni (Buddha of the Present) and Maitreya (Buddha of the Future), are respectively unveiled each day.
4. Ganden Thangka Festival
Date: August 10, 2014
Ganden Monastery is one of the top greatest monasteries in Lhasa. On its Thangka festival, 25 holiest relics that are usually locked away are displayed, accompanied by a grand offering ceremony. Thousands of people go to worship the monastery. Some Tibetans from far away may spend a few weeks or months on their trip to Lhasa.
5. Nagchu Horse Racing Festival
Date: August 10, 2014
Nagchu Horse Festival held in early August is the grandest event in northern Tibet. It attracts hundreds of nomads eager to show off their horsemanship skills, or trade for tools and supplies. A few days before the festival, thousands of traditionally dressed Tibetans from different areas gather on Changtang Grassland. They set up their tents and wait for the exciting moments. The festival features horse racing, yak racing, tug-of-war, rock-lifting, archery shooting, Tibetan group dancing, Tibetan opera and commodity trading. The grassland also presents visitors with its best scenery this season, so most tourists travel to Tibet in July and August.
6. Shoton Festival
Date: August 25, 2014
Shoton Festival, a week-long event starting on the last day of the sixth month in Tibetan calendar, is one of the most popular festivals in Tibet. Traditionally, it was celebrated by eating yogurt. Over time, the festival celebration has developed to feature both religious rituals and civil entertainments. It starts with unfolding a huge piece of Thangka on the early morning of the first day at Drepung Monastery, followed by folk performances of Tibetan opera, dancing and singing, and yak/horse racing.
7. Bathing Festival
Date: September 9, 2014
Tibetans believe that water between the sixth to the twelfth day of July in Tibetan calendar has an extreme magic power to cure all diseases, for the sacred star Venus appears in the sky during the period. Thus, they go to rivers to take a holy bath. Afterwards, they may stay in tents or under umbrellas, drinking barley wine and buttered tea, singing and dancing to their heart's content. It lasts for a whole week, from morning till evening.
About Tibet Travel Org CITS
Tibet Travel Org CITS (http://www.tibettravel.org), the top online Tibet tour operator, annually sends more than 1,000 individual travelers and over 100 tour groups to Tibet. It helps travelers to obtain the Tibet Travel Permit, book air/train tickets to Tibet and customize their tours. The company also keeps updating latest information about Tibet on Facebook (tibettravel.org) and twitter (@TibettravelOrg).