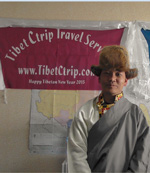 Welcome to travel Tibet with Tibetan guides! Tibet Ctrip Travel Service has special offers.
Lhasa, Tibet (PRWEB) June 15, 2015
Travelling in Tibet gives visitors the opportunity to learn about a culture totally different from their own and open their eyes to the extent of Earth's natural beauty. Given the drastic differences between Tibet and travelers' homeland, a quality guide is key to gaining the most authentic perspective possible. Now that the 2015 travel season kicking into gear Tibet Ctrip Travel Service-TCTS (http://www.tibetctrip.com) has been upgrading its web page to introduce the guides they'll be traveling with. Today, TCTS provides a preview.
Tsering Dolma: Tsering is a 28-year-old Tibetan woman with 8 years of experience guiding tours of Tibet. In addition to being incredibly knowledgeable of Tibetan culture and Buddhist history she enjoys guiding Highland and family tours.
Tenzin Iodoe: Originally from Shigatse, Tenzin studied in Nepal for 7 years before returning to Tibet; he has now been guiding tours for 5 years. Energetic by nature, Tenzin is popular among younger travelers.
Passang: Passang grew up in the Everest region and has extensive experience Tibet trekking tours in various parts of Tibet. Aside from leading trekking adventures he enjoys sharing Tibetan legends with his travel groups.
All of TCTS's Tibetan guides have multiple years of experience guiding western clients in areas of Tibet both urban and remote. While experience is important, it's their passion for sharing Tibetan culture and history that sets them apart from the rest. During a Tibet tour be sure to listen, ask questions, and learn as much as possible. Now that the 2015 travel season is here, it's time to take an adventure!