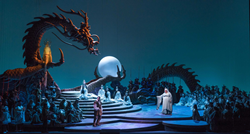 WEST PALM BEACH, Fla. (PRWEB) September 15, 2019
Single tickets to Palm Beach Opera's 19-20 season are now available for purchase. This season, the company will present "Turandot," "Il Barbiere di Siviglia" and "Eugene Onegin" at the Kravis Center of the Performing Arts, featuring internationally-renowned guest artists, as well as a fully-staged production of "Hansel and Gretel" in Delray Beach, starring the company's artists in residence.
Based on the beloved Brothers Grimm fairy tale, Palm Beach Opera's production of "Hansel and Gretel" will feature the company's Benenson Young Artists and Bailey Apprentice Artists, a full orchestra, and an imaginative set made entirely out of paper. Sung in English with English supertitles above the stage, "Hansel and Gretel" is ideal for audiences of all ages and will run at the Crest Theatre at Old School Square Dec. 6-8 this year.
On Jan. 24-26, Palm Beach Opera will present Giacomo Puccini's "Turandot" as its first mainstage opera of the season. Featuring an adventurous musical score and one of the most iconic opera arias of all time, "Nessun Dorma," "Turandot" is a sweeping story of passion, perseverance and peril. Matched with a vibrant, fantastical set from Lyric Opera of Chicago, this production will be conducted by the company's Chief Conductor David Stern and directed by Keturah Stickann.
Soprano Alexandra Loutsion, hailed as "fearless" by Opera News, will share the starring role of Turandot with Alexandra LoBianco (Jan. 25), who will make her house debut at the Metropolitan Opera this season. Tenors Stefano La Colla and Hovhannes Ayvazyan (Jan. 25) will perform as Calaf, and sopranos Leah Crocetto and Anastasia Schegoleva (Jan. 25) will sing Liù. Stickann, LoBianco, La Colla and Crocetto will mark company debuts in this production, and Schegoleva's performance will be her American debut.
For the second mainstage opera of the season, Palm Beach Opera will present Gioachino Rossini's popular masterpiece of comedy, "Il Barbiere di Siviglia" on Feb. 28-March 1. Complete with twists and turns, inventive antics, and a famed overture, this traditional production will be conducted by Stern and directed by Joshua Major – another company debut.
Mezzo-soprano Daniela Mack, known for her Rossini interpretations, will debut with Palm Beach Opera as Rosina alongside baritone Andrew Manea as Figaro, who will make both his role and house debut. Taylor Stayton, last seen at Palm Beach Opera in "The Daughter of the Regiment," returns as Count Almaviva, and Italian-born baritone Renato Girolami will sing Dr. Bartolo in an American debut performance. "Children's Performance: The Barber of Seville," a 60-minute abridged family-friendly version of the opera, will be presented on Feb. 29 at 1 p.m. at the Kravis Center.
Plush orchestrations and a heart-stopping duel mark the company's final production of the season, "Eugene Onegin," Pyotr Tchaikovsky's deeply moving opera of love, rejection, and a reversal of fortune. Israeli-born director Tomer Zvulun, who is also Atlanta Opera's general and artistic director, will lead the cast in this stylish, new co-production, which features a dramatic set and dreamlike backdrops. "Eugene Onegin" will run March 27-29.
Audience favorite Michael Chioldi, last seen at Palm Beach Opera in "Tosca," returns to share the role of Onegin with Vladislav Kupriyanov (March 28). Sopranos Svetlana Aksenova and Yelena Dyacheck (March 28) will sing the role of Tatiana, and Dmitry Korchak and Jonathan Johnson (March 28) will sing Lensky, alongside mezzo-soprano Viktoria Karkacheva as Olga. Praised as a "gifted scene stealer" by New York Magazine, Slovakian bass Stefan Kocan, who sang in Palm Beach Opera's "Rigoletto," returns as Gremin. Zvulun, Aksenova, Dyacheck, Korchak and Johnson will all make company debuts, and both Kupriyanov and Karkacheva will mark their American debuts.
"Turandot" and "Il Barbiere di Siviglia" will be sung in Italian and "Eugene Onegin" will be sung in Russian, all with English supertitles projected above the stage. Tickets for "Hansel and Gretel" start at $25, and tickets for mainstage operas start at $20. To purchase tickets or for more information, visit http://www.pbopera.org or call the box office at 561-833-7888.
Palm Beach Opera is dedicated to producing live opera at an international standard of excellence, to enriching the life of the communities it serves with a diverse offering of educational programs, and to training the next generation of opera stars. Founded in 1961, the fully professional Palm Beach Opera presents main stage performances at the Kravis Center for the Performing Arts in West Palm Beach and is a proud member of OPERA America and the Cultural Council of Palm Beach County.