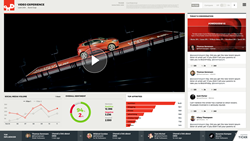 "OMD's commitment to deliver sharper insights and innovation aligns perfectly with our vision of brands using real-time data to turn strategy into performance." Tyler Peppel, Tickr CEO
London, United Kingdom (PRWEB UK) 16 June 2016
Based right outside the Palais on la Croisette, the OMD Oasis beachside cabana will be filled with industry leaders and delegates each day from June 20-25, with this year's focus on storytelling, insight-led marketing, diversity, innovation and much more.
 
Tickr will be on hand to deliver a range of engaging and powerful insights via real-time visualisations on trending topics using #OMDOasis, #CannesLions – and not forgetting the football tournament taking place at the same time – relevant UEFA European Championship hashtags.
 
With some of the best-known and respected industry leaders and celebrities taking to the OMD Oasis stage, Tickr will provide a truly immersive experience that captures live conversations as they happen, engages followers, and documents the buzz that builds right from the very heart of OMD Oasis.
 
The visualisations will also be made accessible across all devices via a live URL to allow anyone to pick up on the latest quotes and comments from speakers, which include high-profile representatives from some of the largest and most prolific brands and agencies in the world along with a host of influential authors, journalists and celebrities including: Academy Award winning actress and Founder and Chief Creative Officer of Goop, Gwyneth Paltrow, Author and Columnist for the New York Times, Thomas Friedman, and Radio and TV host, Ryan Seacrest.
 
"OMD's commitment to deliver sharper insights and innovation aligns perfectly with our vision of brands using real-time data to turn strategy into performance. Customers are engaging, spending and talking about brands 24/7. With Tickr enabling a cross-channel view of marketing initiatives, we aim to bring to life a real-time view of all of the conversations taking place across social channels. We are delighted to partner with OMD for a truly visual and interactive week at OMD Oasis and Cannes Lions," Tyler Peppel, Tickr CEO and Founder.
Tickr will showcase a range of engaging and colourful visualisation tools by utilising data from social intelligence platform Crimson Hexagon and presenting the following real-time metrics to highlight the very best of Cannes Lions Festival 2016:
 

Popular conversations and content across Twitter, YouTube and news sources.
Video feeds showcasing OMD's award-winning work.
Social media statistics of people using #OMDOasis.
Tweets from top influencers.
 
The OMD Oasis is also offering cocktails on the terrace courtesy of Bacardi, with Estée Lauder providing the Cannes glam with makeovers in the lounge. Live streaming from the main stage at the Palais ensures guests can sit back and relax while taking in the beautiful view of the Riviera.
 
"Having seen first-hand how Tickr is becoming the go-to place for businesses looking to take data and collate it into one intuitive, real-time user interface, OMD knew we needed to partner with a company that is data agnostic and can pull in information from any platform. We are excited to be working with a team who understands how creativity is at its best when it is informed and driven by data," Matthew Yorke, Business Development & Marketing Managing Director at OMD.
 
To access the visualisations, please visit: http://www.tickr.com/omdoasis 
 
To learn more about Tickr and its products, please visit: http://www.tickr.com
 
To view the full agenda for OMD Oasis at Cannes, please visit: http://cannes.omd.com/
 
About Tickr
We launched Tickr with a vision to reinvent how you manage marketing performance.
Ever wondered why you manage your marketing with static documents like Excel, PowerPoint and PDFs while the world of information moved online and into the cloud? We did too.
So we built the world's first Marketing Performance Platform to unify all your data into one simple, cloud-based UI. Marketing, enterprise metrics, social, CRM and finance, all on one screen, in real time.
It's a simple idea that we think has the potential to change how all marketing is managed.
In the process, we've built a stellar team and earned the confidence of some of the world's leading brands. The Tickr platform is deployed across market-leading companies in Consumer Products, Pharma, Finance, and Manufacturing. And we're just getting started.
About OMD Worldwide
OMD Worldwide (http://www.omd.com) is the leading global media communications agency, with more than 10,000 employees across 100 countries serving the world's high-profile brands. OMD provides a range of services globally including communications strategy, media planning and buying, digital execution, content creation, entertainment marketing, sponsorship and brand analytics. Recognized for its global footprint, strategic integration and creative innovation, OMD has been named Most Creative Media Agency by The Gunn Report for an unprecedented ten consecutive times; Adweek Global Media Agency of the Year for 2008, 2009, 2011, 2013 and 2014; and IPA 2014 Effectiveness network of the Year. OMD is currently ranked the world's most Effective Media Agency Network in the Global Effie Effectiveness Index.