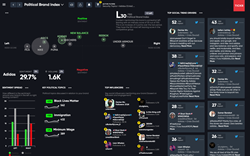 "Tickr's Political Brand Index is specifically designed to help brands manage and optimize their reputation in our high-velocity, high-stakes media environment," said Tyler Peppel, Tickr CEO.
SAN FRANCISCO (PRWEB) October 06, 2020
Tickr, the AI-powered brand analytics platform, today introduced the Political Brand Index, a PR and communications management solution that helps brands gain awareness and control over how they are perceived politically. The Tickr platform is used by leading global brands such as Porsche, Johnson & Johnson, and Olympus.
"In today's politically-charged environment, it's critical for brands to understand how they are associated with issues and candidates. They may create these associations intentionally, but just as often, the associations may be created for them, without their input, knowledge, or control" said Tim Williams, Product VP at Tickr.
"Given the velocity of online communication in a polarized political environment, a company can lose a substantial amount of brand equity and market value in a matter of hours," continued Williams. "Under such conditions, it's critical that brands continuously monitor and understand their political brand perception, whether intentional or unintentional."
"With consumer activism becoming more common, a brand might find a politically inspired boycott of their products already underway before they have a chance to respond. For all these reasons we felt it was time to give brands the tools they need to clearly see how they are perceived politically and increase their lead time to respond appropriately," said Williams.
Tickr's Political Brand Index leverages state-of-the-art deep learning and natural language processing to determine the political biases of news & social feeds. The Tickr algorithm does this by ingesting raw text and using its knowledge from hundreds of thousands of posts and articles to generate a political bias score. This score indicates how left-leaning or right-leaning the article or post is.
Tickr uses recent advances in contextual word & document embeddings coupled with a deep neural network to generate our Political Brand Index. The Tickr platform then applies sentiment analysis to see where negative sentiment is coming from. Users can view all of this data in real-time and be alerted when there is a sudden spike in negative content. Compare the sentiment spread among left or right-leaning audiences. Track the political topics that are most mentioned in relation to your brand. These tools allow you to identify and respond to politicized negative press or social media mentions as well as proactively chart and then track your communication strategy through charged issues. You can even view the sentiment of various companies across your industry to identify your desired niche and track your progress toward reaching your goals.
The Political Brand Index tracks media coverage and social conversations for multiple brands in real-time through a single unified interface. It tracks brands, people, peers and competitors, products, categories and keyword terms on a global level, across multiple industries. It also provides streamlined agency-client reporting, with an intuitive and customizable interface that always displays the most recent data and content.
With its unified interface, Tickr eliminates the need for senior executives, brand and marketing managers, and agency account teams to log on individually to 30+ independent data sources in order to access relevant data. Insights can be presented immediately in a meeting-ready format, enabling brand marketing teams to stay focused on generating high-value insights, strategy, and action.
"For better or worse we are living in a politically charged environment, where claims and counter-claims appear and gain traction in minutes" said Tyler Peppel, Tickr CEO. "Tickr's Political Brand Index is specifically designed to help brands manage and optimize their reputation in this high-velocity, high-stakes media environment."
For additional information about Tickr's Political Brand Index, contact Tickr at info@tickr.com.
About Tickr
Tickr is the premier AI-powered marketing and media analytics platform for brands and agency marketing teams. Tickr's cloud solution gives brands the ability to unify client data into a single source of truth for more efficient reporting, better decision-making, and real-time control over communications, marketing, and advertising performance.
Tickr's best-in-class combination of end-to-end data management, AI/ML, NLP, and high-performance cloud architecture makes it simple for data-driven brands to connect, unify, analyze, and act on all of their media and marketing metrics.
Tickr is proud to power faster insights and better decisions for some of the world's leading brands and agencies, such as Abbvie, Bristol Myers Squibb, Johnson & Johnson, Olympus, Mailchimp, and Porsche.
Learn more about Tickr at http://www.tickr.com.