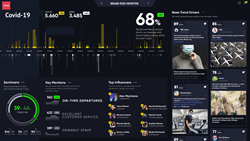 "With Tickr 3.0 we've taken our platform's core differentiators to a deeper level - with AI-based media, risk and issues analysis and six dynamic new solution packages built around important analytics workflows," said Tyler Peppel, Tickr Founder and CEO.
SAN FRANCISCO (PRWEB) July 21, 2020
Tickr today announced general availability for Tickr Media Analytics Cloud 3.0, a substantial platform upgrade which includes new solution packages tailored to key agency and brand marketing workflows, plus deeper AI, machine learning and natural language processing, the ability to quickly configure custom multi-source visualizations, and beautiful new dashboards and UI.
"With Tickr 3.0 we've taken our platform's core differentiators to a deeper level - with AI-based media, risk and issues analysis, six dynamic new solution packages built around important analytics workflows, plus open connectivity to any API data source, and further refinement of our world-class UI", said Tyler Peppel, Tickr Founder and CEO.
"Our partnership with Tickr gives CDN fundamental advantages in the agency marketplace - most important, Tickr 3.0 enables the measurable, data-driven approach that today's clients ask for," commented Juliano Nóbrega, CEO of CDN, an Omnicom agency and one of the largest public relations and communications providers in Brazil. CDN is a key Tickr partner who has previewed and provided feedback on Tickr 3.0's new capabilities during development. "The Tickr solutions we offer help our internal teams and our clients make informed, real-time decisions based on dependable data. We're excited to be one of the first to roll out Tickr 3.0."
Deep integration of AI, Machine Learning, and Natural Language Processing
Tickr 3.0 includes a platform-wide integration and upgrade of Tickr's proprietary suite of AI technologies:
● Automatic Query Optimization: As you use Tickr 3.0 it builds a user-specific training set based on query topics, filtering, and user behaviors. For example, when a user marks a piece of content as "irrelevant" the content is not just removed, but analyzed. The analysis is then used to improve targeting of future filtering, uniquely for your Tickr configuration. The more you use Tickr, the smarter it gets.
● Industry-Specific NLP: Tickr 3.0 automatically develops vertical industry intelligence about market-specific industries and terms. For example, in a pharmaceutical application of Tickr, the word "case" is likely used in a medical context, like a "case" of the flu. In a legal application, however, it probably means a "court case." Tickr 3.0 analyzes results by vertical, building proprietary training datasets of industry-specific terminology that continuously improve search and filtering results for all Tickr users.
● Content Cluster Analysis: Tickr 3.0 uses Natural Language Processing to analyze similarities between pieces of content and group together those that have the same message, even though source, format, and wording may vary only slightly. This is particularly applicable to news stories and means a user only has to encounter a news story once in the UI, even though dozens of near duplicates of the story may have been returned by a query.
Ability to Create Your Own Custom Visualizations
Tickr 3.0 includes Data Explorer - the ability for any user to custom-create data visualizations from multiple data sources in seconds. Once created, the visualizations can be named, saved, and organized on custom Tickr screens that can also be named and saved around topics of the user's choice - for example, campaigns, products, people, competitors and industry verticals. The custom screens and visualizations can then be shared across teams, utilized in reports, and integrated with any other visualizations in the Tickr library. Data Explorer enables you to quickly build your entire Tickr configuration from scratch, organized exactly how you, your clients or your other stakeholders want it.
Suite of Six New Analytics Workflow Solutions
Tickr 3.0's new solution packages are designed around the requirements of common communications and brand marketing analytics workflows.
● Paid, Earned, and Owned Media Monitor: Unified view of all your content, campaigns, and audience perception. Make critical spends and strategy corrections based on real-time data. Extrapolate future performance based on trends and address targeting issues before they impact campaign ROI.
● Live Event Tracker: Optimized for internal and external corporate events, conferences, and meetings of all kinds. Live tracking of event metrics and content - for example, event mentions provide a visual focal point for attendees. Dynamic full-screen rendering of event-related content and analytics, appropriate for large screen presentation.
● Competitive Intelligence: Track peer and competitor messaging, audience reaction, benchmarks, and brand share of voice among your peers and competitors. See performance for client-brand owned accounts side-by-side with owned accounts from client peers, industry partners, and competitors.
● Campaign Tracker: Track ad performance across channels. Identify the best and worst-performing ads & channels in real-time, enabling timely reporting. Create unified campaign views pulling in data from multiple paid channels, web analytics, and earned social & news for a holistic view.
● Brand Fitness Tracker: Track overall brand perception over time, with a unified cross-channel view of key health metrics. Set baselines, assess performance, track against goals, with always-on, multi-channel monitoring. Millions of media posts are auto-ranked based on impact, enabling immediate focus on the media that matters.
● Brand Risk Monitor: Predict, track and manage potential brand crisis events. Identify high impact media events that can precipitate a crisis. Compare a current crisis with historical events. Identify threats to your business based on the industry context. Identify the most impactful content during a crisis.
Pricing
The new solutions come with simplified modular pricing and a wide range of optional add-ons to further tailor the offering to our user's needs. In addition, all six solutions may be purchased together in a discounted Command Center Bundle offering.
Biggest UI Upgrade Since the Introduction of Tickr 1.0
Tickr has always been known for our great user interface. Tickr 3.0 delivers a fluid, simplified UI design that makes interaction easier, while putting more controls at users' fingertips. Everything from the design of window borders to the color palette and icons has been refined, and new UI features provide even more information and power.
About Tickr
Tickr is the premier AI-powered media analytics platform for agencies, consultants, and brands. Tickr's cloud solution gives agencies the ability to unify client media analytics data into a single source of truth for more efficient reporting, better decision-making, and real-time control over PR, marketing, and advertising performance.
Tickr's best-in-class combination of end-to-end data management, ML/AI technology, and high-performance architecture makes it simple for data-driven agencies to connect, unify, analyze, and act on all of their media and marketing data sources and metrics. Tickr's solutions power faster insights and better decisions for the world's leading agencies and brands.
To learn more, visit http://www.tickr.com