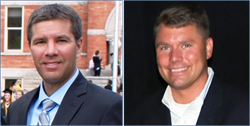 Each brings unique leadership and management experience to TIDI Products
Neenah, WI (PRWEB) February 02, 2016
TIDI Products, LLC, a leading manufacturer of clinically differentiated, single-use, infection-prevention products, today announced the appointment of two industry veterans to its executive management team. Effective January 25, 2016, Jeff Hebbard assumed the role of Vice President and Chief Operations Officer. Effective January 18, 2016, Mike Duski assumed the role of Senior Vice President and Chief Commercial Officer for Acute Care. Both gentlemen report directly to TIDI Products President and Chief Executive Officer Kevin McNamara.
As VP and COO, Jeff Hebbard owns full and direct responsibility for all manufacturing, planning, purchasing, engineering, and logistics for all TIDI operations located in the US and China. Jeff brings extensive management experience as well as Lean and Continuous Improvement expertise to TIDI Products. Most recently, Jeff was SVP of Operations for Ariens Company. Jeff's other executive roles at Ariens include those in Customer Experience; Sales, Marketing & Product Development; and Operations. Jeff holds a BS in Mechanical Engineering from the Michigan Technological University and an MS in Science Engineering Management from the Milwaukee School of Engineering; he also attended Stanford University's Design Thinking Program for product development.
As SVP and CCO of Acute Care, Mike Duski is responsible for all sales and marketing activities in the Acute Care business segment of TIDI Products. Mike brings a tested management track record to TIDI Products. Most recently, Mike was SVP/General Manager of Interventional Solutions at Cardinal Health. Mike's other executive roles at Cardinal Health include those in Specialty Products; Critical Care & Drug Delivery; Thermal Products; Infection Prevention; and Patient Protection. Mike holds a BS in Finance from DePaul University and an MBA in Marketing/Management from the Charles H. Kellstadt Graduate School of Business of the DePaul University Driehaus College of Business.
"We're extremely pleased to welcome Jeff and Mike to our executive management team," said TIDI Products CEO Kevin McNamara. "Each brings unique leadership and management experience to TIDI Products. They will be critical contributors to TIDI's mission of 'Supporting Caregivers and Preventing Infections.'"
About TIDI Products, LLC
TIDI Products, LLC is a leading global manufacturer of innovative, single-use, infection-prevention products and unique, safety-improving interventional equipment. TIDI is committed to supporting caregivers and preventing infections in hospitals, clinics, dental offices, and other healthcare environments. The TIDI Product portfolio ranges from exam table paper, patient capes and gowns, dental bibs, curing light sleeves, intra-oral camera covers, and sterile C-Arm drapes; to protective eyewear, gowns, masks and gloves for staff; to securement products for catheters and other devices. For more information, please visit http://www.TIDIProducts.com or follow us on Facebook, Twitter, LinkedIn, and YouTube.