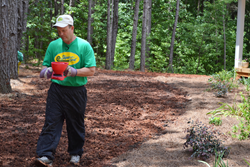 This video...details the process of seeding a lawn from TifBlair Centipede grass seed, from soil test to weed management.
ATLANTA, GA (PRWEB) March 31, 2017
On March 25, 2017, Super-Sod added an educational video titled "Planting a TifBlair Centipede Lawn from Seed" to their YouTube library of instructional turfgrass videos for the Do-It-Yourself homeowner.
This video, filmed at a new home in High Shoals, Georgia, details the process of seeding a lawn from TifBlair Centipede grass seed, from soil test to weed management.
Ley Pickens from Super-Sod of Orangeburg, South Carolina, reprised his role as instructor in this video that informs consumers on how to prepare the ground for planting, properly spread seed, level the lawn and sufficiently water for the best seed germination.
The video was released just in time for planting season. To ensure healthy germination,TifBlair Centipede seed should be planted after the last frost in the spring and a minimum of 60 days before the first expected frost of the fall.
Step-by-step written instructions and specific details of seeding TifBlair Centipede are also available on Super-Sod's website.
Centipede grass loves acidic soil and hot weather. It is affectionately known as the "lazy man's grass" because of its low maintenance requirements. Perfect for warm climates, TifBlair Centipede is shipped across the southern United States and the world from Patten Seed's distribution center in Marshallville, Georgia.
TifBlair Centipede is grown, harvested, cleaned processed and packaged in the Southeast by Patten Seed Company. TifBlair Centipede is a trademark of The Turfgrass Group, and TifBlair Super-Wrapped seed product is exclusively marketed for wholesale and retail by Patten Seed Company.
Super-Sod offers the products in the video at their stores throughout Georgia and the Carolinas, where TifBlair Centipede is also available as sod. Also among the recommended products is Soil3 organic humus compost, used in the video for amending soil and as a light mulch over the seed.
Soil3, the OMRI-listed humus compost delivered in a signature BigYellowBag, is created at Super-Sod's farm in Fort Valley, Georgia. Wheat straw, manure from local dairies, and grass clippings from the farm are the only ingredients featured in the compost. Soil3 is used to add nutrition, improve moisture retention, and build better soil structure in native clay soil.
Super-Sod, a subsidiary of Patten Seed Company, is a family run business that employs experts in turf and horticulture. Super-Sod develops garden products; fosters gardening and landscaping; and seeks improvement in farming practices, technology, environmental stewardship and employee knowledge.
Visit Supersod.com to learn more about the company and to sign up for their Monthly Lawn Tips eNewsletter.