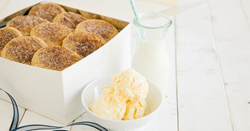 "I'm so excited Tiff's Treats will be a part of both of the places I call home and can't wait to introduce my Charlotte community to these beloved cookies," said Brooklyn Decker.
AUSTIN, Texas (PRWEB) February 19, 2019
Tiff's Treats, the Austin, Texas-based company that pioneered warm cookie delivery, announced it is serving the Charlotte, N.C. area with a pop-up delivery service to precede the opening of two retail locations in Uptown and south Charlotte in summer 2019.
Beginning Feb. 25, the Tiff's Treats pop-up delivery service will deliver warm, freshly-baked cookies to the Uptown, Midtown, South End and Dilworth areas surrounding Charlotte's business district. The pop-up service will operate under limited hours, from 10 a.m. – 3 p.m. weekdays, and offer a limited menu to give customers a taste of what to expect when the first Charlotte brick and mortar stores open this summer with a full menu and operating hours and an expanded delivery zone. Customers can pre-order now on the company's website for delivery in early March to homes or businesses in the area, and come mid-March, can order the cookies on demand for hot-out-of-the-oven delivery in a little over an hour.
Model/actress Brooklyn Decker, a loyal supporter of the charitably-minded cookie company along with her tennis pro husband Andy Roddick, says a Charlotte store has been at the top of her wish list as the company expands outside of Texas. "I'm so excited Tiff's Treats will be a part of both of the places I call home and can't wait to introduce my Charlotte community to these beloved cookies," said Decker.
Tiff's Treats co-founders Tiffany and Leon Chen chose Charlotte for the company's next location outside of Texas, following Atlanta and Nashville store openings, because of the city's great mix of business, culture and southern hospitality. "Charlotte is similar to Austin in its heart for hospitality and appreciation for great food," said Tiffany. "Our passion is making people happy with warm, fresh-baked cookies, and we look forward to spreading that joy to our new neighbors in Charlotte."
The Tiff's Treats south Charlotte store will open this summer at 7314 Waverly Walk Avenue, and its second location will serve the Uptown area. Each Tiff's Treats store's grand opening celebration features warm cookies for $5 a dozen, free cookie gift cards and giveaways, and benefits a local charity that receives all of the day's cookie sales up to $5,000.
Decker and Roddick are the newest members of Tiff's Treats' team of investors and advisors that includes former executives at Starbucks, Whole Foods, Papa Johns and Pizza Hut, as well as the current mayor of Dallas. The couple announced last summer the active role they will play in supporting Tiff's Treats as it expands throughout the country.
About Tiff's Treats
Tiff's Treats created the warm cookie delivery concept. Tiff's Treats makes classic, baked-to-order cookies and brownies and delivers them straight from the oven to the home or office, WARM, in about an hour or so. Orders can be placed on demand or scheduled for a later date or time. Customers can order seamlessly via phone, online or the newly released Tiff's Treats app, all of which are supported by industry-leading technology and customer service. Founded in 1999, what started as two friends baking cookies at University of Texas at Austin to help fellow students get through exams has now grown to 48 stores in Texas, Georgia and Tennessee with more than 900 employees, baking more than 100 million cookies since its inception. And the company is consistently focused on giving back: with grand opening fundraisers that fill needs for charities (and hungry bellies for Tiff's Treats fans!), Tiff's Treats has donated more than $150,000 to worthy causes. To learn more, please visit http://www.cookiedelivery.com.