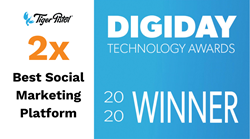 Tiger Pistol continues to invest and innovate in the future of advertising science, where guess and test is gone and know and optimize is reality. - Paul Elliott, Tiger Pistol CEO
AUSTIN, Texas (PRWEB) November 18, 2020
Tiger Pistol, the only social advertising platform that delivers local activation at global scale, was recently named Best Social Marketing Platform for the second year running in the Digiday Technology Awards.
"Last year's selection of Tiger Pistol over other leading social advertising tool providers validated our category leadership position," said Paul Elliott, Tiger Pistol CEO. "Earning this honor for the second year in a row is a true testament to our continuous innovation, broadening the applicability of our solution, and deepening the value we deliver."
The Tiger Pistol platform's power lies in simplifying social advertising performance. Utilizing advanced automation and breakthrough applications of AI and data, Tiger Pistol takes the hard work and cost out of delivering better performing social campaigns at scale for global brands and their agencies, all while preserving brand integrity.
"We've published more distributed social advertising campaigns than any other tool provider or vendor in the industry, giving us an ocean of intelligence and actionable insights to help our clients hone their strategies and optimize their campaigns for maximum performance," said Elliott. "In today's world, campaign performance is more important than ever. Every advertising dollar must work as hard as possible for our clients and their distribution partners, which is why Tiger Pistol continues to invest and innovate in the future of advertising science, where guess and test is gone and know and optimize is reality."
The Digiday Technology Awards recognize the technology modernizing media and marketing, bringing efficiency and effectiveness to brands and agencies worldwide. As noted in its Awards Guide, " Social media is a complex beast. Tiger Pistol proved that brands, with the right automation and workflows, can tame it."
To learn more about Tiger Pistol's social advertising tools and how Tiger Pistol, the world's #1 social advertising automation platform for local, unlocks local activation at global scale for brands, resellers, and agencies visit http://www.tigerpistol.com.
About Tiger Pistol
Tiger Pistol is the world's #1 social advertising automation platform for local. For nearly a decade, the company has been obsessively focused on building the world's most effective social advertising platform for global brands, resellers, and agencies who realize the power of local activation at scale. As a preferred Facebook Marketing Partner and the largest third-party publisher of social advertising for local, Tiger Pistol creates, deploys, manages, and optimizes high-performance Facebook and Instagram ads at unprecedented scale, with over 1 million Facebook and Instagram campaigns published to date. Tiger Pistol's first of its kind technology delivers meaningful and measurable business impact for brands, resellers, and agencies alike, helping to unlock value and efficiency through innovation-led social advertising automation. Tiger Pistol is the most awarded and recognized social advertising platform of 2020. Visit TigerPistol.com, or follow on Twitter, Facebook, or LinkedIn.