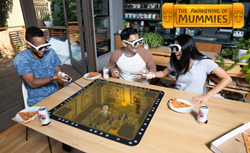 SANTA CLARA, Calif. (PRWEB) March 24, 2022
Tilt Five inc., an Augmented Reality (AR) entertainment system that engages users in tabletop 3D holographic environments is pleased to announce official launch titles available for the gaming system.
The Tilt Five™ system was developed with gamers and tabletop enthusiasts in mind and invites players to level up game night with the magic of immersive 3D technology. Using proprietary AR glasses, a retroreflective gameboard, and a wand motion controller, players can explore holographic worlds with their family and friends together at home or online.
With the success of the Kickstarter campaign in 2019, which amassed over $1.7 million–becoming the largest AR Kickstarter campaign–Tilt Five began partnering with third-party developers to transform their PC, mobile, and console games into tabletop AR experiences.
"It has been an incredible journey that is made even better by the developers who took a chance on us and integrated their games with this bleeding edge technology," says Jeri Ellsworth, CEO, Tilt Five. "We have created a community of developers who are helping us to refine holographic gameplay and make the best experiences possible."
"Tilt Five's tabletop AR has a big advantage over fully immersive AR ... everybody has a table at home to play with, but very few have the empty space that immersive AR requires," says Javier Davalos, Lead Developer & Designer, Figmin XR. "Once you realize how much space to place content you actually have, your mind explodes!"
Tilt Five continues to support third-party developers and has launched a Tilt Five Game Developer Portal that invites developers to integrate existing games or develop new ones for the gaming system.
While Tilt Five is currently shipping to Kickstarter backers, consumers in North America are able to reserve a kit on the website for shipments in Q2. Those in other countries can sign up to be notified when shipping to new regions begins.
Official Tilt Five Launch Titles:

The Awakening of Mummies
Battle Map Studio
Bomb Bots Arena
Chuck's Challenge
Danger Scavenger
Demo: DX266
Figmin XR
Floating Farmer
Hextones: Spacetime
Ho-Ho-Home Invasion
Magicolors
Murder Mystery Machine
QB Planets
Space Merchants: Arena
Tabletopia
Tinker Racers
Find out more about our Launch Titles here.
Registered attendees, media, and exhibitors who want to learn more and demo the Tilt Five System during GDC are invited to join us at our booth: Moscone North Hall Booth #N2925.
For additional information or to book an interview or demo please contact Stephanie Greenall, Head of Communications, Tilt Five inc.
About Tilt Five
Tilt Five is an entertainment system provider that uses proprietary augmented reality (AR) glasses, a gameboard and a wand controller to engage players in tabletop and video games in 3D holographic environments. Founded by a team of technical visionaries with decades of experience working for consumer technology leaders such as Valve and Google, Tilt Five aims to provide a comfortable, social and immersive AR experience for consumers. Tilt Five is backed by over 3,000 Kickstarters, SIP Global Partners, BITKRAFT Ventures, Galaxy Interactive, Logitech, and games industry leader Ken Birdwell. Founded in November 2017, Tilt Five is headquartered in Silicon Valley.
For more information, please visit http://www.tiltfive.com and follow us on Twitter.