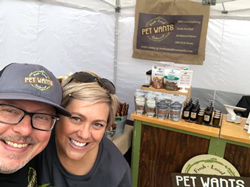 Any success we have had so far with our small business can be chalked up to the great products we provide, and the outstanding customer service we are striving to achieve. - Tim Chapman
MINNEAPOLIS (PRWEB) April 01, 2020
Tim and Carrie Chapman, the local owners and operators of Pet Wants Minneapolis, have earned Pet Wants' national President's Award of Excellence, both for their business growth and their role in growing the brand across the nation. The award was presented at the company's national conference earlier this year.
"I'm extremely proud to recognize Tim and Carrie Chapman with this award this year. Tim and Carrie launched their business in late 2016 and, ever since, they have been recognized by other owners as franchisees who set the example of excellence every day. They set new standards for a Pet Wants mobile franchise business in 2019 and I'm really looking forward to their accomplishments in 2020 and beyond," Pet Wants President Scott Hoots said.
Pet Wants' multiple blends of specially-crafted pet food formulas are made in small batches with fresh, natural ingredients enhanced with vitamins and minerals for a complete and balanced diet in every bowl. Pet Wants Minneapolis also sells natural chews, treats, spaw products made with essential oils and CBD oils/treats and more. Pet Wants Minneapolis offers free mobile delivery service within the Twin Cities metro area and surrounding suburbs.
"We feel very humbled to be honored to be recognized with the President's Award. We work extremely hard with the goal of building a successful business and taking care of our customers – we don't do it with the goal or expectation to win an award – but we are very thankful that our Pet Wants President felt we were worthy of receiving this honor. Our daily award is our customers purchasing from us and thanking us for providing them with outstanding products and service," Tim Chapman said.
Tim and Carrie both worked for Target before opening Pet Wants and they've brought that focus on customer service with them. Carrie is a founding member of the company's advisory committee and helps with projects both large and small. While the Chapman's were the first Pet Wants franchise in the Twin Cities, two other locations have opened since their launch back in 2016, which has made the company stronger across the region.
"Pet Wants offers two things that are very important to consumers: great products and outstanding customer service. Our food is slow cooked at a low temperature – which preserves nutrients – and delivered within weeks, rather than months, of being made. We also provide a well-balanced menu of options for our customers, from our food, to a wide variety of treats, to spa products, and a great selection of CBD/Hemp Oil and Bites. We like to consider ourselves a health-focused pet food store on wheels with our delivery service," Carrie Chapman said.
"As small business owners, we also believe it's important that our customers know that, if they have a question or concern, they are talking to Tim and Carrie. We answer all the calls, emails or texts from our customers ourselves – that is never delegated to someone else. Any success we have had so far with our small business can be chalked up to the great products we provide, and the outstanding customer service we are striving to achieve," Tim added.
Pet Wants has a 100-percent, money-back guarantee on the freshness and quality of the food and the company only sources the best salmon, chicken, lamb, brown rice and other ingredients available. There's no sugar added, no fillers and no animal by-products and Pet Wants never uses corn, wheat, soy or dyes, which makes the food great for animals with allergies. Pet Wants has nearly 100 locally-owned locations nationwide.
To learn more about Pet Wants Minneapolis or to register for convenient home delivery, email tchapman@petwants.com or cchapman@petwants.com, call (952)448-4PET(4738) or visit http://www.PetWantsMinneapolis.com.