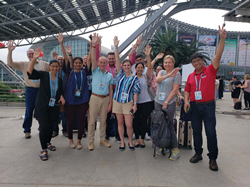 "If you've dreamt of launching a new product, if you're new and you have an idea, if you've been in the business for a while and you want to get better, or if you just want a business that gives you control over your life – this is the program for you."
SEATTLE (PRWEB) August 22, 2019
Every week entrepreneurs across the country watch Shark Tank and The Profit, eager to bring products to market, envisioning themselves in front of the sharks, not knowing where to start. Each day, hundreds of Sellers on Amazon Marketplace search for better products with less competition that they can launch under their own brand name. And every night hopeful entrepreneurs dream having their product in Walmart or Target but have no clue where to begin. This is where The Canton Fair Experience and their newest mentor, Tim Bush, can help entrepreneurs turn their dreams into reality.
Offered only twice a year, The Canton Fair Experience is a comprehensive two-month online course, culminating in an in-person sourcing trip in China. Entrepreneurs, many of whom sell on Amazon, go through highly comprehensive online training, learn about developing successful products, learn insider information about the retail industry, and learn about manufacturing in China. The course continues with participants visiting The Canton Fair in China under the guidance of program founders Steven Selikoff and Amy Wees. The participants interact with manufacturers and suppliers first-hand and get an up-close look at how to create a successful line of products by working with Chinese suppliers.
Although just a year old, the Canton Fair Experience already has a strong reputation among entrepreneurs selling on Amazon as a successful alternative to the "copy-and-sell" method being touted on YouTube® videos.
This makes the founders Amy Wees and Steven Selikoff very proud. From the very beginning, they envisioned a program that taught entrepreneurs the skills and knowledge needed to create true self-sustaining businesses and an income they can live on. This meant introducing entrepreneurs to the often-unfamiliar world of brick and mortar retailers. The addition of Tim Bush to the team brings a depth of knowledge beyond any level the co-founders could have wished for.
Tim Bush has over 22 years' experience in retail and wholesale. He has personally helped launch products in almost every major retailer including Walmart®, Target® and Costco®. His podcast 'On The Shelf Now' is listened to by thousands of entrepreneurs selling in big box retailers and those hoping to do so. His reputation extends beyond the boundaries of the US and he has helped multiple countries expand their trade presence onto the shelves of major retail chains.
"Tim Bush brings an entire new level of experience and credibility," says The Canton Fair Experience co-founder Amy Wees. "I can't believe he is joining us!"
Tim Bush will train entrepreneurs during the two-month training portion of the program, answer student's questions, and introduce them to selling to big box stores. In China he will be at the student's side, mentoring them, advising on product viability, discussing adjacencies, and leading ad hoc masterminds.
Steven Selikoff explains, "While the course is highly complex and goes into extreme detail about the products and working with a Chinese manufacturer, it is highly comprehensible and easily adaptable at the same time. The course walks students through every single step of creating a successful and highly profitable product line. This is industry knowledge that top corporations use to create dynamic product lines that not only sell but also maintain their demand in the consumer market"
Amy Wees adds, "The Canton Fair, is the largest product exposition in the world, lasting through three phases, and covering the equivalent of 217 football fields. Students are taught to navigate the enormous complex and how to negotiate with factories. They are also guided through Chinese factories, and introduced to experts in inspection companies, legal affairs, and international shipping."
China remains the largest source of products worldwide. Importing and developing products is an exciting way for entrepreneurs to build a laptop-lifestyle, live where they want, and have the freedom to control their own life. With Tim Bush onboard, The Canton Fair Experience will help even more entrepreneurs achieve their dreams.