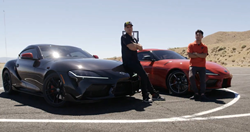 Owning all the equipment and gear allowed me to test with the Saatchi team before our shoot day so we could work out all the issues.
LOS ANGELES (PRWEB) September 11, 2019
Director Tim Damon recently traveled to the desert to capture a most unique game of H-O-R-S-E, featuring Toyota Racing's world-class Formula Drift (FD) drivers, all to show off the incredible agility and muscle of Toyota's all-new 2020 Toyota GR Supra for agency Saatchi & Saatchi. The contest is being streamed on Facebook, Reddit, YouTube and Instagram. The film has garnered over 2.3 million views on YouTube in three weeks.
Horsepower
The five-plus minute YouTube film engages the audience with freestyle drivers put through a gauntlet of humorous skill tests meant to push both driver and car. Toyota's FD drivers (masters of oversteer) Ken Gushi and Fredric Aasbo are introduced by fellow driver Ryan Tuerck to this car-centric version of H-O-R-S-E. Both drivers get to push their respective 335hp, balanced GR Supras doing each "trick." To capture the action, Damon operated eight cameras, catching everything from driver reaction to wide angle shots of each round. Two professional drivers, two powerful Supras.
Damon collaborated with the agency creatives on each "game." The first contest involved generating enough tire burn to activate smoke detectors. Others involved maiming a pizza, doing donuts, whacking a Piñata, stopping on a giant dime, stuffing basketballs, keeping lattes from spilling and completing the perfect J turn.
"We helped the agency team refine the stunts, as we learned what to expect from these high-performance vehicles," says Damon. "For the smoke detector round, we knew that the alarm would activate from tire smoke, but we also knew to bring special smoke alarms made for the hearing impaired that could be seen with strobing lights over roaring engines and screeching tires. For the Piñata contest, we needed to measure exactly how much pressure does it take to bust the paper-mache donkey. Needless to say, lots of prep, but all the planning ensured a smooth shoot."
For Damon, this longer format piece now playing on various social media and digital platforms is exactly what his production company is meant to do. "Agencies and automakers look for directors with all the resources needed to create single large asset packages that support diverse forms of ad content; from TV to web content to social media and everything in between," he says. "Owning all the equipment and gear allowed me to test with the Saatchi team before our shoot day so we could work out all the issues. It gives the agency the security of a turn-key, one source production. No need to move from vendor to vendor. It's the future of car advertising content."
About Tim Damon
Tim Damon is represented for commercials and digital work through Square Planet Media/Damon Productions. For more information on Stage 20 rental, contact John Urso at 310-632-4090.