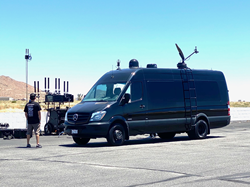 By late summer business had exploded. Agencies and their clients trust us.
LOS ANGELES (PRWEB) February 02, 2021
While many commercial production companies shuttered operations during the COVID-19 pandemic, Director Tim Damon and his production company are busier than ever by instituting new safety protocols, socially-distant filming, unique on-location monitoring techniques and advanced internet access for his car shoots nationwide. The result is new campaigns the last three months for Nissan, Toyota, Mitsubishi, Hyundai and Honda.
"COVID-19 initially saw the delay or elimination of many productions as companies grappled with how to produce assets or even get permits to shoot on location," says Damon, whose specialty is directing high-end car ads. "But the car industry has it's own inertia, always having new models in the pipelines, updates in design, etc. They constantly need new content. Last February, always working to streamline production we practiced shooting remotely, using drones and advanced, real-time communication technologies. When the pandemic hit in March, we took it seriously. I immediately became a COVID compliance officer, along with eleven of my crew."
During the summer, Damon and his production team perfected procedures both for his stage20 production studio in Los Angeles and for work on-location shooting. For shooting inside, active UV-C air filtration was installed on the stage. To facilitate remote reviews and approvals Damon installed three military grade Winegard satellites mounted to the roof of a custom fabricated Mercedes Sprinter van. "The system uses global satellites to collect and transmit a broadcast signal in real time for immediate reviews and approval," says Damon. "The system uses military grade technology to make collaboration on shoots instantaneous, allowing our clients maximum bandwidth, making instantaneous decisions possible. Additionally, we continue to collaborate with XM2 and Teradek on upgrades and refinements on all of our wireless technology and communications."
Damon feels that his long-term commitment to car work helped his company weather this pandemic. "By late summer business had exploded. Agencies and their clients trust us," he says. "Our whole business has always been predicated on innovate or die. Over the years, car work has become more complex, needing new technologies to complete the shoot. My reputation for having the latest gear and always being a step ahead in terms of integrated production really helped. Clients come to us knowing when they're here with us three or four days they can feel safe while getting A-level content and assets. And, if they can't be here in person, they know they're going to get great results from me and my team."