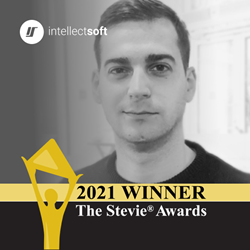 MIAMI (PRWEB) May 14, 2021
Intellectsoft, a digital transformation consultancy and engineering company delivering cutting-edge solutions for global organizations, today announced that Tim Kozak, Head of Technology, has received the Silver Stevie Award in the 19th Annual American Business Awards® as a Product Developer of the Year.
As a Startup Bootcamp alumni and co-founder of 3 tech startups, Tim understands the importance of cutting-edge tech solutions in businesses. Driven by a passion for technology and innovation, he is a visionary leader that has contributed significantly to the successes of Intellectsoft's clients worldwide. Together with his team, he developed a mobile banking solution powered by blockchain technology; iOS and Android apps for a sports loyalty program; Uber-like concierge services platform, and other innovative solutions.
Tim takes seriously his role in giving back to the community. He organized the first European iconic blockchain engineering conference "Blockchain: Rethink Trust". Moreover, he was an invited speaker at the annually held The Blockchain Expo Europe that gathers thousands of international tech experts, industry professionals and business leaders. He founded GeekHub, a free school that helps people get practical skills and knowledge of software development and start their career in the IT industry. For over 10 years, the school has helped 2,350 students break into a new high tech career path.
Earlier this year Intellectsoft was recognized as an honoree of Inc. Magazine's List of the Fastest-Growing Private Companies in the New York City Metro Region, scored the prestigious annual list of Highly-Rated Software Development B2B Companies by Clutch, and got acknowledged as one of Top Mobile App Development Companies by Digital.com and ITfirms in the first quarter of 2021 alone. Additionally, in April Intellectsoft was recognized as one of the Top Mobile App Development Companies by The Manifest.
Since 2007, Intellectsoft has been supporting companies like EY, Jaguar, Harley Davidson, Nestle, Eurostar, Land Rover, Guinness, and others in their digital transformation journey by creating cutting-edge software solutions. The company has R&D labs in the US, UK, Norway, and Ukraine and works with companies in healthcare, fintech, hospitality, construction and insurance industries.
About Intellectsoft
Founded in 2007, Intellectsoft is a digital transformation consultancy and engineering company that delivers cutting-edge solutions for global organizations. For 14 years, Intellectsoft has been helping Fortune 500 companies and established brands in building solid software foundations for their businesses. Intellectsoft delivered innovative software solutions to companies like Guinness, EY, Land Rover, Jaguar, and Walt Disney. The company was named one of the most highly-rated software development B2B companies in 2021 by Clutch and ranked No. 244 on Inc. Magazine's list of the fastest-growing private companies in the New York City Metro Region.