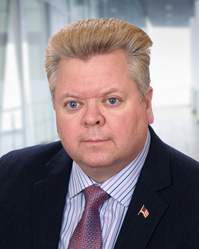 "Tim's 23 years of experience in the signage industry combined with his knowledge of business strategies to optimize business profitability and customer experience will greatly benefit our organization and future partners and customers."
FAIRFIELD, N.J. (PRWEB) March 16, 2021
The appointment of Tim Lloyd as Director of Sales and Marketing for Nova Polymers, the largest manufacturer and distributor of photopolymer sign solutions in the United States, Canada, Europe, the Middle East, and Australia, is announced by Dave Miller, Managing Director for Nova Polymers.
"Tim's 23 years of experience in the signage industry combined with his knowledge of business strategies to optimize business profitability and customer experience will greatly benefit our organization and future partners and customers," said Miller.
In his new position, Lloyd will lead a sales and service team in a way that strengthens Nova Polymers' existing relationships and create demand for new customers through cultivating purpose-based relationships between brands, manufacturers, and fabricators. He comes prepared with industry-leading knowledge of ADA-compliant photopolymer signs using Nova Polymers' materials and equipment.
"In every customer experience, I want to make sure our clients know that they are dealing with experts in their field and are gaining a long-term partnership," said Lloyd. "I am looking forward to the opportunity to develop and expand Nova Polymers' presence in the marketplace."
About Nova Polymers
Nova Polymers is the largest manufacturer and distributor of photopolymer sign products in the United States, Canada, Europe, The Middle East, and Australia. The company developed the world's first CLEAR photopolymer sign material. The introduction of NovAcryl continues to have a profound effect on the creative potential of the sign design and fabrication industries.
Today, Nova Polymers continues to work with the Architectural Signage and Design community to expand their high quality and progressive product line in ways that will add creativity and flexibility while maintaining & exceeding ADA compliance guidelines. Nova's goal is to educate the design community so that there is demand created for the products fabricators manufacture.