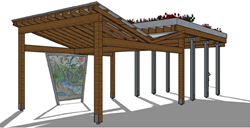 The timber frame structure is an integral part of the project design, expressing a commitment to sustainability and use of renewable resources.
Rochester, NY (PRWEB) February 19, 2016
New Energy Works Timberframers invites the public to join their timber frame raising of the Rochester Museum and Science Center's (RMSC) new Learning Pavilion in Rochester, New York on Wednesday, February 24, 2015 from 9am – 12pm ** UPDATE: This raising has been rescheduled to MONDAY February 29th ** Timber frame raisings are special, celebrating both craft and shelter. This is an exciting and important day for the entire community as the culmination of months of effort, planning, and dreaming takes shape.
"The timber frame structure is an integral part of the project design, expressing a commitment to sustainability and use of renewable resources," states Tom Robinson, RLA, LEED AP, from Barton & Loguidice, D.P.C., the Landscape Architect of the project. Timber framing is a traditional form of building structures of heavy timber jointed together with pegged mortise and tenon joints. The craft is sought after not only for its aesthetic, but also for the longevity and efficiency it provides over more common structures.
The Learning Pavilion will act as the centerpiece of the Museum's Regional Green Infrastructure Showcase, a new initiative looking to demonstrate a natural systems approach to storm water management within a sustainable urban public space. The Showcase concept design was developed collaboratively with RMSC staff and local partners, including the Water Education Collaborative, the Storm Water Coalition of Monroe Country, and the Rochester Institute of Technology. The conceptual design embraces a synergy of environmental science, art, and architecture to achieve the project goals.
The New Energy Works timber frame, crafted of Cedar timbers (over 2,400 board feet), will support a roof system demonstrating green roof and water harvesting technologies. A semi-intensive green roof, with native plant varieties similar to what is being used on the ground landscape, will cover 325 square feet of the pavilion. The remaining 275 square feet will be covered by a flat seam metal butterfly roof that will collect rainwater as well as any overflow draining from the adjacent green roof. It will then direct the runoff to cascade over an educational art glass panel and into a rain garden.
The RMSC Learning Pavilion, designed by CJS Architects, will provide unique opportunities to contemplate and interact with local hydrology and green infrastructure systems. It will function as an outdoor classroom for teaching water quality and green infrastructure concepts to schools, summer and holiday camps, community groups, and workshops.
Local businesses, organizations, friends, and neighbors are invited to join in the raising of the Learning Pavilion. If you'd like more information about the event, contact New Energy Works Timberframers directly by e-mailing events(at)newenergyworks(dot)com.
*Raising date is subject to change due to weather, site conditions, or other factors. Please check newenergyworks.com/eventsandraisings for the latest. ** NOTE: This raising has been rescheduled to MONDAY, February 29th **
New Energy Works Timberframers have been designing and building environmentally responsible timber frames across the USA for more than 30 years from their facilities in Oregon and New York. Offerings include: Timber Framing (design, engineering, manufacturing, build), Enclosure Systems, Fine Woodworking, and Recycled and Sustainable wood products. New Energy Works has two LEED AP staff members, is a member of the US Green Building Council, and is FSC Certified.