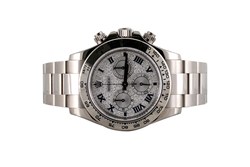 Los Angeles, California (PRWEB) August 06, 2013
Time and Gems, the world's forerunner in luxury watch retailing has announced several things that pre-owned Rolex watch owners can do to try to ensure their Rolex watch increases in value over time.
Time and Gems (http://www.timeandgems.com) offers one of the largest selection of certified authentic Rolex watches available online. Specializing in pre-owned Rolex watches, Time and Gems is the best platform from which to garner top-notch advice on Rolex watches, be they brand new or pre-owned.
According to Time and Gems, Rolex watches will incur an initial depreciation in value immediately after being purchased. Hence, buyers who purchase brand new Rolex watches will find that they will lose money in the short term if they choose to sell their Rolex watches right away. However, buyers who purchase a pre-owned Rolex watch can avoid this initial depreciation as the value of their timepiece is expected to increase over time. Here are some things pre-owned Rolex watch owners can do to maintain the resale value of their Rolex watch.
1. Frequent Servicing
Rolex watches are not known as good investments for nothing. As Rolex timepieces are known to last for decades, owners can retain the watch's value and mint condition by cleaning and servicing the Rolex watch once every three to five years. Rolex watches need regular maintenance in order to maintain optimal running order. Even if the watch looks brand new and seems to be in spic and span condition, just like any other mechanical device, needs attention to ensure that all its parts are well lubricated and cleaned. Although most Rolex watches run smoothly for several years past the recommended service date, it is recommended that owners wait no longer than five years to service their Rolex watch to prolong its lifespan. Time and Gems offers quality Rolex watch servicing by their in-house team of Rolex-certified watch makers. Rolex watch owners are encouraged to get in touch with one of the company's representatives to find out more.
2. Authenticity Certificate
Whether the owner of the pre-used Rolex watch bought the watch or received it as a gift, he or she has to insist on an authenticity certificate from an independent and unbiased organization. This authenticity certificate will indicate the watch's authenticity as well as retail value at the time. If the owner lost or did not receive an authenticity certificate with the purchase of the watch, Time and Gems recommends he or she gets one as soon as possible. All pre-owned Rolex watches sold through Time and Gems is not only thoroughly checked by one of the company's watchmakers, but more importantly, also authenticated by the Horological Association of America, a well known and independent association. This authenticity certificate plays a role in the Rolex watch's resale value.
Because Rolex watches are well known for their engineering and design quality, these watches are very consistent when it comes to longevity, hence pre-owned Rolex watches are often indistinguishable from their brand new counterparts. Buyers will find that buying a pre-used Rolex watch is just as good as buying a brand new one.
One of the many pre-used Rolex watches for sale through Time and Gems is the Ladies' Rolex Two-Tone Black Stick Dial Smooth Bezel Datejust (Item #660).
Price: $3,745. Today only: $3,500 (Bank Wire Price: $3,325). This leaves the buyer a total savings of $420.
For more information on Time and Gems' professional Rolex watch servicing, as well as a complete list of all the pre-used Rolex watches on sale, head to http://www.timeandgems.com or call 1-888-658-5595 to speak to an expert representative.