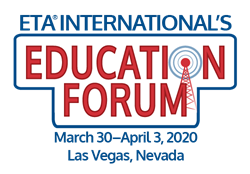 GREENCASTLE, Ind. (PRWEB) September 13, 2019
Electronics Technicians Association®, International (ETA) is looking for dynamic speakers with great insights about what's new and relevant in the world of communications technology, especially those which provide case studies and innovative solutions for communications challenges. Electronics and communications professionals with fresh ideas and practical solutions to the challenges facing today's communications industry are invited to submit proposals for session presentations at Education Forum 2020 (EF20), co-locating with the International Wireless Communications Expo (IWCE) at the Las Vegas Convention Center.
Topics areas of interest include:

Industry Trends
Public-Safety Broadband/FirstNet
Critical-Infrastructure/Enterprise Broadband—Public and Private Systems
Business Critical Technologies – Operational, Usage, Benefits
Land Mobile Radio (LMR)—Public-Safety, Enterprise
4G/5G Wireless--Long Term Evolution (LTE)/Wi-Fi/WiMAX
Network Densification/Small Cells
Fiber Optics Role in Wireless Communications
In-Building Coverage—DAS/BDA
Backhaul/Fronthaul—Fiber, Microwave, Satellite, etc.
Deployable Networks—Vehicles/Flying COWs/Carrying Cases/Backpacks
Mission-Critical Push-to-Talk (MCPTT)
PTT Over Cellular (PoC)
CBRS/Private LTE Networks
Drones/Unmanned Vehicles
Wireless Sites and Towers/Network Infrastructure Forum
911/NG911
Computer-Aided Dispatch (CAD)
Location-based services (LBS)/Mapping—GPS/GIS
Internet of Things (IoT)/Internet of Life Saving Things (IoLST)
Artificial Intelligence (AI)
Virtual Reality/Augmented Reality
SDN/NFV/SON
Application Development
Edge Computing
Data Storage--Big Data/Cloud/Fog
Smart/Safe Cities
Analytics—Data, Video and Voice
Technology Reviews ( LTE, 5G, P25, NXDN, TETRA, DMR, etc
Connected and Autonomous Vehicles (CAVs)
Network Resiliency/Availability
Hardening/Physical Security
Power—Batteries/Generators/Fuel Cell/Solar/Wind
Planning and Preparation for Communication Systems
Network Interoperability and Integration
Hybrid/Heterogeneous Networks (HetNets)
IT and Comms Integration
System Management/Maintenance
Cybersecurity
Case Studies and Best Practices
Frequency Coordination
Spectrum and Signal Optimization
Test & Measurement/Coverage Analysis
Product Distribution/Channel marketing
Regulatory and Policy Discussions
Young Professionals Mentoring
Women in Critical Communications
Benefits of presenting a session at EF20@IWCE include free admission to the show with access to all workshops and short courses. Gain professional exposure and extensive publicity by speaking before hundreds of industry peers - the IWCE conference promotes each presentation to its attendees through a vast promotional campaign. Get published in ETA's bi-monthly publication, High Tech News. Secure a great chance to network with over 7,000 industry peers as well as to view the latest products and services exhibited by more than 400 venders.
Industry gurus with timely and relevant ideas wanting to share future-thinking insights, research, trends and educational topics that are driving the communications technology industry are encouraged to submit session topic proposals. The deadline to submit is September 30, 2019. Sessions will be presented Wednesday & Thursday, April 1 & 2, 2020. Review the guidelines and submit proposal(s) at:
https://www.eta-i.org/education_forum_call_for_presentations_form.html.
Contact ETA for more information at 800-288-3824 or eta@eta-i.org.
In addition to the short courses at EF20@IWCE, ETA will host hands-on training workshops leading to ETA accredited certification as part of IWCE's robust conference program. To prepare both entry-level technicians and seasoned professionals for successful careers in electronics and wireless communications, hands-on training workshops that will be hosted by respected industry leaders include: 5G for Technicians, Basic Electronics, Distributed Antenna Systems, Fiber to the Antenna, General Communications Technician, Cybersecurity, Line and Antenna Sweep, Passive Intermodulation, Practical Antenna Basics, R56 Communications Site Installer, and Radio Frequency Interference Mitigation. For registration information, go to: https://www.iwceexpo.com/iwce20/Public/Content.aspx?ID=1072168.
About ETA International – Celebrating 40 years of service to the electronics industry, ETA has delivered over 250,000 certification examinations successfully. Widely recognized and frequently used in worker job selection, hiring processes, pay increases, and advancements, ETA certifications are often required as companies bid on contracts. ETA's certifications are personal and travel with the individual, regardless of employment or status change and measure competencies of persons, not products or vendors. All ETA certifications are accredited through the International Certification Accreditation Council (ICAC) and align with the ISO-17024 standard. http://www.eta-i.org
About ETA's Education Forum - ETA International is proud to host hands-on training through outside vendors in popular technology areas related to ETA certification during Education Forum, co-located with the International Wireless Communications Expo, for the sixth year in a row March 30 – April 3, 2020, at the Las Vegas Convention Center, South Hall. ETA's partners, the industry's most respected trainers, will provide in-depth hands-on training in several key areas of expertise. Following each training class, ETA will provide opportunities to test for ETA certification. http://www.eta-i.org/education_forum.html
About International Wireless Communications Expo (IWCE) - Since 1977, the International Wireless Communications Expo (IWCE) has been the premier annual event for communications technology professionals. IWCE features over 380 exhibitors showcasing the latest products and trends in the industry. Over 7,000 individuals attend from a diverse group of industry professionals including government/military, public safety, utility, transportation and business enterprise. For more information, visit http://www.iwceexpo.com.
Download this press release at –
https://www.eta-i.org/pr/Time_Is_Almost_Running_Out_to_be_a_Thought_Leader_at_Education_Forum.pdf