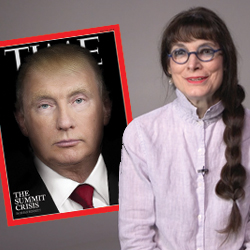 "We are fortunate to have Nancy Burson as an instructor in our Photography Department. Her TIME magazine cover demonstrates the power of the art form, which can distill such a critical story into a single image." - NYFA President Michael Young
NEW YORK (PRWEB) July 20, 2018
Acclaimed visual artist, photographer, and New York Film Academy (NYFA) faculty member Nancy Burson's thought-provoking image is the current cover of TIME magazine.
"We are fortunate to have Nancy Burson as an instructor in our Photography Department," notes NYFA President Michael Young. "Her TIME magazine cover demonstrates the power of the art form, which can distill such a critical story into a single image."
Best known for her pioneering work in morphing technologies, Burson's TIME magazine cover digitally combines the faces of two of the world's most powerful leaders, U.S. President Donald Trump and Russian President Vladimir Putin, into a single portrait. To create the image, Burson partnered with digital editor and NYFA Photography graduate John Depew.
Burson's cover image provides a startling visual representation of a significant moment in world affairs, following the recent meeting of the two world leaders in Helsinki.
"We at the New York Film Academy's Photography School could not be more honored to see our colleague's work featured on the cover of TIME magazine," says NYFA Photography Chair David Mager. "Nancy is an exceptional artist whose profound work, and its cultural impact, speaks for itself -- as it has for decades. This image speaks to a critical moment in world affairs and demonstrates the power of visual arts in society to provoke thought, open dialogue, and express the times. We are truly proud to count her among our faculty and offer our students opportunities to learn from a master of her craft."
In addition to her TIME cover, Burson's work was recently also singled out by TIME magazine in its list of 100 Photographs: The Most Influential Images of All Time. Her tenure at the New York Film Academy is in line with the school's mission to offer visual and performing arts students hands-on instruction from leading industry experts.
About Nancy Burson
Burson is a legend in her field, perhaps best known for her cutting-edge morphing technologies. Burson's work has been featured on Oprah, Good Morning America, CNN, National Public Radio, PBS, and Fuji TV News, as well as countless local TV segments in the USA, Canada, and Europe; and discussed in The New York Times, The Baltimore Sun, The Houston Chronicle, and Scientific American Magazine, to name a few. There are four monographs of her work and reproductions of it appear in hundreds of art catalogs and textbooks on the history of photography, published in all languages. Burson's fine art photography is available through ClampArt Gallery in NYC. Her website can be viewed here.
About New York Film Academy
The New York Film Academy (NYFA) is a leading visual and performing arts school that offers courses across 15 areas of study in New York City, Los Angeles, South Beach/Miami, Gold Coast (Australia), Florence (Italy), and more. Thousands of aspiring artists come to study at the New York Film Academy each year from over 120 countries. For more information, please visit nyfa.edu.