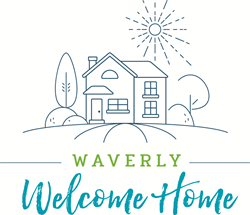 We invite you to explore living the good life in a beautiful place where community means everything. We invite you to Waverly – Welcome Home.
WAVERLY, Iowa (PRWEB) October 06, 2020
Leaving the big city for a more relaxed lifestyle in the wide-open spaces of the rural Midwest has new appeal in 2020.
COVID-19 has cast a new focus on the shift from cities to more rural areas. Leaders in Waverly, Iowa, are seizing this opportunity to lure big-city dwellers to their charming community with its thriving historic downtown and college vibe.
"Waverly is a beautiful, family-friendly town of 10,000 people located on the scenic Cedar River in Northeast Iowa," said Connie Tolan, Waverly economic development specialist. "We are rolling out our welcome mat with the new Waverly – Welcome Home initiative and campaign."
According to a Harris Poll, nearly 4 in 10 city dwellers were considering a move to a more rural area. While a desire to live in a less densely populated area during the pandemic may have been the initial consideration for moving, the ability to work remotely on a more permanent basis is also a factor.
"With remote work flexibility, many employees no longer need to live in megacities to work at a corporate headquarters," said Tolan. "They no longer need to pay three times the rent for one-third the square footage of living space and no longer need to waste hours each day fighting traffic to commute."
Austin Lorenzen moved to Waverly 10 years ago and works remotely for SAP, an international high-tech corporation based in Seattle.
"I really appreciate that Waverly is a Gigabit City with fiber internet speeds that are amazing and service that is incredibly reliable," said Lorenzen. "We could have lived anywhere in the world, but we chose Waverly because it is a safe community with outstanding schools and a low cost of living. Plus, it has all the amenities we want without the hassles of a larger city."
While some people move to Waverly to start their careers, Katrina Lucas moved to Waverly from the Chicago suburbs to advance her career at Nestlé USA.
"I really don't miss the two-plus-hours commuting, not-so-friendly people and raising my son in a big city," said Lucas. "Waverly gives off that small-town welcoming feeling, but with big opportunities, entrepreneurial spirit and community mindfulness. We love all the outdoor activities we can do right here, plus partaking in community events like Heritage Days, Christmas Greetings on Main and Oktoberfest."
In addition to food manufacturers like Nestlé USA, insurance and finance, advanced manufacturing, agriculture, education and healthcare organizations are some of Waverly's largest employers — with some being major global players in their sectors.
"Not only are we attracting employees from out-of-state to work at these companies, we're attracting many Iowans within 100 miles of Waverly," said Tolan.
Tolan added Waverly has a thriving arts and culture scene that comes with being home to Wartburg College, a liberal arts college.
"People of all ages find themselves moving to Waverly not only for good-paying jobs, but to also enjoy the great amenities we have to offer," said Travis Toliver, Waverly Chamber – Main Street director. "Our community events, farm-to-fork restaurants, boutiques, yoga studios, recreational paddling, biking trails and two award-winning golf courses are just some of the many gems one doesn't often find in a community this size."
Waverly and its residents have won many awards, including a Main Street Iowa Award, Healthy Hometown Award and Presidential Teaching Awards for Mathematics and Science.
"We're proud of these accolades, but know there is always room for continuous improvement to make our city the most welcoming city in Iowa," said Waverly Mayor Adam Hoffman. "We invite you to explore living the good life in a beautiful place where community means everything. We invite you to Waverly – Welcome Home."
###