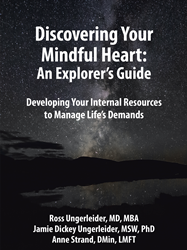 "Our goals are to help get this book to readers who are ready for their 'explorer's journey' of learning how to be the most authentic version of themselves."
CHAPEL HILL, N.C. (PRWEB) November 08, 2021
There are many obstacles in life that can lead to burnout. It can be difficult at times to know how to face these times of stress in a healthy way. In Ross Ungerleider, MD, Jamie Dickey Ungerleider MSW, Ph.D. and Anne Strand's DMin, LMFT new book, "Discovering Your Mindful Heart: An Explorer's Guide. Developing Your Internal Resources to Manage Life's Demands," they combine relevant science and rich wisdom with interactive practices and stories drawn from over 40 years of experience as coaches, therapists, surgeon, professors, spouses and parents. Readers will learn new material that supports positive possibilities for the planet and its people.
Throughout the book, the authors educate the reader as they invite them to live their lives and relationships to their fullest potential. In this era of increasing stress and burnout, they guide the audience in reconnecting with their internal resources to be better equipped and more informed as they confront the demands of contemporary life. "Discovering Your Mindful Heart: An Explorer's Guide" includes 26 distinctive and beautifully illustrated cards that are intended to help individuals hold their resources as they develop a renewed understanding of their capability and the importance of these resources in their lives.
"We anticipate that there will be something deeply personal, evocative and transformational in this book for every reader," said the authors. "Just like the uniqueness of people, there is no one on this Earth, nor will there ever be again, anyone quite like that spirit that is called by your name, the book will likely be meaningful in uniquely different ways for each reader. Our goals are to help get this book to readers who are ready for their 'explorer's journey' of learning how to be the most authentic version of themselves."
"Discovering Your Mindful Heart: An Explorer's Guide" is designed to become its own resource, one that can be used frequently to help individuals manage emerging real-life issues and challenges with novel and inspiring approaches. The authors combine information from various professions and their own experiences, resulting in an enjoyable and extremely relevant read.
Ultimately, readers will gain new insight into old problems. They will discover their mindful heart, that part of them in which their authenticity nests and from which they can express themselves with a sense of freedom that links their heart with their mind and their yearnings with their actions and behaviors.
"Discovering Your Mindful Heart: An Explorer's Guide. Developing Your Internal Resources to Manage Life's Demands"
By Ross Ungerleider MD, MBA; Jamie Dickey Ungerleider MSW, PhD and Anne Strand DMin, LMFT
ISBN: 978-1-9822-4326-5 (softcover); 978-1-9822-4327-2 (eBook)
Available at Balboa Press, Amazon and Barnes & Noble
About the authors
Jamie Dickey Ungerleider, MSW/LCSW, Ph.D., has spent more than forty years as an educator, psychotherapist, organizational consultant and relationship coach. She received a Ph.D. in educational psychology and an MA in counseling from the University of Mississippi. She furthered her education by earning an MSW from Tulane University. Dickey Ungerleider's work has helped her guide clients to significant changes that have cultivated more-effective business practices and more-fulfilling interpersonal relationships. She has written numerous articles and book chapters on leadership, personal and occupational wellness and conflict management. Her work has led her to participate as a speaker at a wide variety of national and international meetings. In addition to her work in psychotherapy, Dickey Ungerleider has worked at several academic medical centers as an associate professor and has served as a consultant and coach for medical students, residents, nurses and faculty. She has served on national physician wellness committees and was a member of the task force for professionalism for the American College of Surgeons. Dickey Ungerleider and her husband are dedicated to helping others transform their personal and professional lives and have created, Integrated Life Skills, LLC. To learn more, please click here: https://integratedlifeskills.com
Ross Ungerleider, MD, MBA is a world-renowned pediatric cardiac surgeon, author, educator and certified coach. He earned his MD from Rush Medical College in Chicago and completed his surgical training at Duke University Medical Center, where he remained a part of the faculty for many years, rising to the rank of professor in 1996. In 2001, he left Duke to take on additional leadership roles at Oregon Health & Science University, Case Western Reserve University, Wake Forest Baptist Health and Driscoll Children's Hospital. His career is dedicated to building children's heart programs and teaching leadership, teamwork, interpersonal and communication skills and congruent choice making to individuals at each organization. Ungerleider has published over 300-peer-reviewed scientific papers and contributed numerous book chapters, as well as serving as an editor for two major textbooks on his medical specialty. He has been named to America's Best Doctors, Cambridge's Who's Who, Castle Connolly's Top Doctors (receiving their distinction as being among the top 1 percent nationally in his field), and by Good Housekeeping as one of the best pediatric cardiac surgeons in the US. He was also awarded the James Carreras International Humanitarian Award for his work performing heart surgery on children in Nicaragua. He received his MBA from the University of Tennessee, where he was elected Physician Leader of the Year. Ungerleider and his wife have conducted workshops nationally and internationally on the critical elements seen throughout their new book.
Anne Strand, DMin, LMFT, is a retired psychotherapist, educator, spiritual teacher, Episcopal chaplain and artist. During her thirty-one years as a therapist, she was a licensed clinical member of the American Association of Marriage and Family Therapists, a certified Imago relationship therapist and a diplomate in the American Association of Pastoral Counselors. Strand received her MA from the Drew University Theological School and a doctorate from Andover-Newton Seminary at Yale. After completing her education, she maintained a long-term private psychotherapy practice and served as a part of the counseling staff at Riverside Church in Manhattan. Strand founded a self-sustaining Women's Spiritual Journeyer's Group in Oxford, Mississippi. She also studied in Paris, where she enriched her skills as an artist.
General Inquiries, Review Copies & Interview Requests:
LAVIDGE – Phoenix
Grace Connor
480-998-2600 x 534
gconnor@lavidge.com