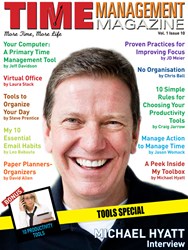 We are fortunate to have an expert of Michael Hyatt's calibre discuss his insights with our readers
(PRWEB) July 23, 2013
Michael Hyatt is the former publisher of Thomas Nelson Publishers, the seventh largest trade book publication company in the U.S. His website, http://michaelhyatt.com, is a conglomerate of blogs dealing with productivity, personal development, leadership and the like.
This month, Time Management Magazine caught up with him and sat down for an exclusive interview. As the premiere magazine for time management in the App Store, Time Management Magazine works specifically to help businesspeople, office workers and anyone who has chaos in their lives gain control and improve productivity.
This month's issue focuses on tools necessary to help manage time, resources and people. "We strive each month to feature a new specialist or set of practical tips to help anyone manage," said Glenn Watt, Senior Editor, "This month is no different. We are fortunate to have an expert of Michael Hyatt's calibre discuss his insights with our readers."
The issue is filled with articles. One of Michael Hyatt's 'This is Your Life' podcasts 'A Peek Inside My Toolbox' where Michael gives readers a chance to see what he does to help manage his time as a former publisher of a major book publishing company and current owner of a very successful blog, is included as well.
This month's issue also has a new feature. Those interested in Time Management Magazine but are not ready to commit to a full subscription will be able to preview the first two articles of the magazine. Additionally, the first month's issue is free with an annual subscription. This means getting 13 issues for the price of 12. Learn more at http://www.timemanagementmagazine.com/.
About Time Management Magazine:
Time Management Magazine can be downloaded by searching in the App Store for "Time Management Magazine," if on an iPad or iPad Mini just click this link to download http://bit.ly/ZSuM06