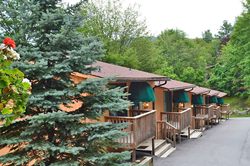 Cedar village is the third Lemonjuice Solutions project to complete a successful repositioning
ORLANDO, Fla. (PRWEB) April 28, 2020
Alex Krakovsky, Lemonjuice Solutions CEO, said, "Over the past several years older timeshare resorts have felt the pressure of declines in maintenance fee paying owners and the lack of a resale market for association-owned units. Fortunately, the underlying value of the real estate of these timeshare resorts often have significant value when repurposed to a better use."
The Cedar Village board had been looking for options for several years to address a dwindling timeshare owner base and rising costs of operating and maintaining the property's aging infrastructure. In the late 1990s, the Cedar Village Association had built the indoor pool and recreation center – one of only a few such facilities on the mountain – to enhance the timeshare ownership experience for the resort's 750 timeshare owners. However, it wasn't enough to stop the decline in timeshare ownership, and the board found themselves again looking for creative options.
In 2017, the board met Alex Krakovsky, Lemonjuice Solutions CEO at a Timeshare Board Members Association™ event, and quickly found that they shared a commitment to finding a positive outcome for the resort's timeshare owners, as well as an appreciation for the charm of the unique property and its mountaintop setting. Lemonjuice Solutions partnered with the board by injecting the funds required to complete the project by acquiring and paying assessment on non-performing timeshare interests for the Association. They co-invested with the Association to repair building foundations, electrical and mechanical systems and to update the unit interiors to make the units an attractive ownership option, and worked with the Cedar Village board of directors to communicate the options to the timeshare owners, obtain the votes necessary to end the struggling timeshare regime, and deliver clear, insurable title to the general real estate market. Eighteen months later, the first units sold at auction, and proceeds from each sale were distributed to the owners by a trustee appointed by the Association.
Cedar village is the third Lemonjuice Solutions project to complete a successful repositioning, and one of several currently undergoing a process intended to provide a positive outcome for the Association of timeshare owners by converting some or all of the units from timeshare to traditional real estate, and distributing the net sale proceeds to those owners.
"Every resort and every Board are different, and each requires a new dialogue, research, and plan to define and meet the Board's objectives," said Krakovsky.
About Lemonjuice Solutions: Timeshare ownership has served thousands of people well for decades of ownership, but many resorts and their owners are seeking new options. Lemonjuice Solutions believes that those owners should reap the hidden value within their properties, and not burdened by the costs and complexities of moving on when it's time to do so. Offering management, restructuring, and advisory services, Lemonjuice Solutions seeks to unlock the value of timeshare properties and give their Board of Directors real options – and not the status quo.
For more information about Lemonjuice Solutions and its unique solutions for every resort, please contact: R. Scott MacGregor, Senior Vice President, COO Lemonjuice Solutions 321-236-6663 scott.macgregor@lemonjuice.biz or Melanie Coffin, Vice-President Business Development Lemonjuice Solutions, 301-337-2599, melanie.coffin@lemonjuice.biz