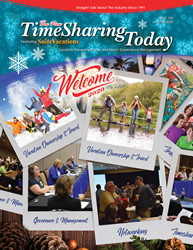 TimeSharing Today covers all aspects of resort governance and management to help owners' associations, managers, and owners stay informed and to get the most out of vacation their investment.
TENAFLY, N.J. (PRWEB) December 18, 2019
According to Shep Altshuler, publisher of TimeSharing Today, "We have long understood the
interconnectivity among owners, their owners' associations, management, exchange companies, resale companies, and other industry providers. Timeshare ownership has a unique place in the hospitality industry. It's driven by a commitment to long-term obligations of owners and the fiduciary responsibilities imposed on timeshare boards of directors by their owners' association's governing documents and state statutes."
By fine-tuning its focus, TimeSharing Today seeks to educate current and prospective owners and their governing bodies about their responsibilities while enhancing the positive aspects of vacation condo-style travel.
Resort Governance/Management
Vacation ownership entails long-term obligations. Because changes are occurring in the industry, owners must remain engaged and participate in their resort's governance. They need to know details about their rights and obligations, and the financial status of their resort.
Many owners remain unaware of the provisions of their resort's governing documents, how long-term contracts are awarded, the priorities and responsibilities of their boards of directors and managers, and the communication channels that exist between the resort and its owners. TimeSharing Today covers all aspects of resort governance and management to help owners' associations, managers, and owners stay informed. The goal is bring clarity to everyone involved.
At the time of purchase, Altshuler noted, timeshare buyers receive copies of their association's governing documents. They also receive annual budgets and financial statement and are asked to participate in owners' meetings and to vote on important issues. The problem is that many owners do not participate and are not familiar with the obligations spelled out in the governing documents. Policies are now being established by resorts to help owners turn back their deeded interests. Many governing documents were drafted 30 or more years ago and need updating. Not being attentive to these concerns creates obvious risks.
Vacation Ownership/Travel: At the same time, Altshuler said, the travel experiences of timeshare owners are multi-faceted, and TimeSharing Today will continue to publish articles about those experiences. They will include the wonderful vacations participating writers enjoy at timeshare resorts with friends and families, using timeshares to maximize travel opportunities, and ways to avoid the timeshare-related scams that are prevalent today.
As part of the travel experience, TimeSharing Today will introduce a new feature: Suite Vacations. This platform focuses on showcasing great destinations, and rentals at condo-style resorts with accommodations that include kitchens.
Articles will include travel stories from leisure and business travelers who stay at showcased properties and then write about what made the destination and the resort a positive experience. "At TimeSharing Today, your opinion really does count," Altshuler said. Articles and photos can be sent to staff@tstoday.com.
Suite Vacations also offers a full travel/concierge service for those who prefer a personalized approach to travel planning and booking. You can sign up for free at http://www.suitevacations.com. For information about Suite Vacations Travel/Concierge Services, email info@suitevacations.com.