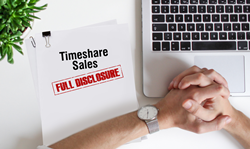 Consumers should know their rights before entering into long-term timeshare contracts.
TENAFLY, N.J. (PRWEB) October 24, 2019
Timeshare owners often talk about their experiences after attending a timeshare sales presentation. They love going to get those gifts promised in exchange for a 90-minute tour. Sometimes, they joke about the high-pressure sales tactics and the less-than-honest sales presentations. TimeSharing Today publisher, Shep Altshuler, recently suggested that "full disclosure in timeshare presentations would help improve the industry's tarnished public image".
The problem with many such presentations is that the buyer is subjected to pressure to sign a contract before leaving. Buyers can't take any documents home to review with an attorney unless they sign then and there. They may, or may not, fully understand their right to rescind, but without full disclosure, they may become victims of the process.
New timeshare sales disclosure regulations are sorely needed to protect consumers, and models already are in place to deal with it. These are called "cooling-off periods." The first was adopted by the franchise industry in the mid-1970s, when California passed a franchise disclosure act. Prior to that time, franchise salesmen selling their business opportunities relied on high-pressure, not always honest, sales presentations to get the buyer to sign a franchise agreement. Claims against franchise companies were fairly common.
FTC and EU Rules
Eventually, the U.S. Federal Trade Commission developed a Uniform Franchise Offering Circular, now called a Uniform Franchise Disclosure Document. No offer for the sale of a franchise can be made without the buyer receiving a comprehensive disclosure document at least 14 days prior to signing any agreement and paying any fees.
Some timeshare industry folks might argue that franchising is not the same as timesharing, but the second model—enacted in Europe by the European Union—makes that argument moot, as follows:
In 2009, a Directive on the protection of consumers with respect to certain aspects of timeshare, long-term holiday product, resale and exchange contracts replaced the old Timeshare Directive with clearer and simpler rules.
Under that Directive, timeshare sellers must provide detailed information to consumers before the consumer is bound by any contract, including the price to be paid, a description of the product and the exact period and length of stay that the consumer is entitled to under the contract. This information should be provided in the consumer's own language if they so choose.
The Directive also ensures that consumers may withdraw from a contract within a "cooling-off" period of 14 calendar days and that timeshare sellers cannot task for any form of advance payments or deposits during that period. Before signing a contract, sellers must draw the consumer's attention to the right of withdrawal, the length of the withdrawal period and the ban on advance payments during the withdrawal period.
Summing Up
TimeSharing Today notes that without effective disclosure requirements, the buyers of timeshares are on their own. Before you leave a sales presentation, make sure that you know what your rescission rights are, and when and how to exercise them.