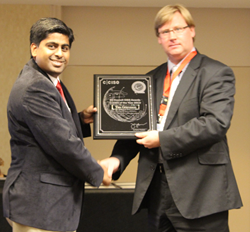 ... we gave our industry the opportunity to nominate those CIOs that are doing their absolute best to support the security of their organizations as advances in infosec are meaningless in our corporations and governments without upper management support
Atlanta, GA (PRWEB) October 16, 2013
"It was an exciting day for all involved and we are very proud to have the opportunity to recognize not only the warriors who are fighting the cybersecurity battle day in and day out, but also the managers who set them up for success," says Jay Bavisi, President of EC-Council, of the awards ceremony at the Global CISO Forum. Tim Grieveson, Chief Information Officer of G4S Risk Management, was chosen from dozens of nominees for the honor. EC-Council established the CIO of the Year award to recognize those who may not be security practitioners themselves but who support the mission of information security. As Bavisi noted in his address to the Global CISO Forum audience, there is some debate about to whom the CISO position should report and there was an hour-long panel later in the agenda to discuss just that issue, but as it stands now, the most common structure is for the CISO to report to the CIO. According to Bavisi, "… we gave our industry the opportunity to nominate those CIOs that are doing their absolute best to support the security of their organizations as advances in infosec are meaningless in our corporations and governments without upper management support."
What set Grieveson apart from the pool of applicants was the fact that he is an inspirational 'Big Corporate' CIO and IT Transformation Director with over 16 years' IT experience and over 10 years Information Security experience. He is changing and challenging the way in which technology supports businesses in his role as CIO at G4S Risk Management, which is part of the G4S group, the world's second largest private employer with some 675,000 staff globally. He is responsible for the direction and strategy of Global ICT and Information Security for the organization. His commitment to security is recognized throughout the industry. Mike Loginov, a Certified CISO with the Ascot Barclay Group, nominated Mr. Grieveson for the honor.
About the EC-Council CISO Program:
EC-Council's CISO Program (http://www.eccouncil.org/ciso/) has three components: CISO Events, the Certified CISO (C|CISO), and CISO Resources – a repository for white papers and articles geared toward a CISO crowd. EC-Council's CISO Events are invitation only and geared specifically for high-level, executive information security professionals. Combining keynotes with panel discussions, the events are opportunities for CISOs from around the world to hash out the trends and challenges of information security among their peers. The C|CISO is a certification recognizing an individual's cumulative experience and expertise in executive information security management. Overseen by a board of seasoned and distinguished professionals, the C|CISO Program has certified over 700 IS executives from around the world.
For more information about EC-Council's CISO Program, please visit http://www.eccouncil.org/ciso/
About EC-Council
The International Council of E-Commerce Consultants (EC-Council) is a member-based organization that certifies individuals in various e-business and security skills. EC Council is the owner and developer of the world-famous E-Council Certified Ethical Hacker (CEH), Computer Hacking Forensics Investigator (C|HFI), Certified Security Analyst (ECSA), License Penetration Tester (LPT) programs, and various others offered in over 60 countries around the globe. These certifications are recognized worldwide and have received endorsements from various government agencies including the US Federal Government via the Montgomery GI Bill, and the US Government National Security Agency (NSA) and the Committee on National Security Systems (CNSS) certifying EC-Council's Certified Ethical Hacking (CEH), Network Security Administrator (ENSA), Computer Hacking Forensics Investigator (CHFI), Disaster Recovery Professional (EDRP), Certified Security Analyst (E|CSA) and Licensed Penetration Tester (LPT) program for meeting the 4011, 4012, 4013A, 4014, 4015 and 4016 training standards for information security professionals and most recently EC-Council has received accreditation from the American National standards Institute (ANSI).
For more information about EC-Council, please visit http://www.eccouncil.org