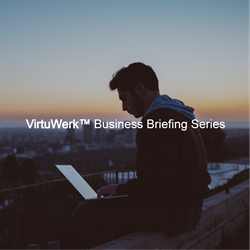 ...we want to assure we all can be 'present' in our work while working remotely, contributing positively, and continuing to grow professionally
MINNEAPOLIS (PRWEB) March 16, 2020
Timmaron Group, a global technologies and professional services firm, today announced the launch of a new line of business called VirtuWerk™. This offering includes a series of briefings that specifically addresses issues that work teams and individuals are now facing as their work moves to the remote environment – where they are more dispersed and more physically distanced from one another than ever before.
"These are challenging times for organizations large and small, public or private," said Barbara Stinnett, Timmaron Group's CEO, and a longtime technology executive. "The technology industry has been working remotely for almost four decades. However, most industries and smaller companies have not had to assess, test, and implement full workforces working remotely. With the COVID-19 global pandemic requiring action to be taken in very short notice, many firms are caught between addressing the health impact of their employees and maintaining their work quality when they must work remotely."
The VirtuWerk™ offering will first include a briefing series to cover several topics for leaders to consider and leverage when moving their teams to a multi-location work environment. The series will kick off this week by looking at "Remote Technology Basics – Voice, Data, and Video." Timmaron Group professionals will be talking through how best to use today's top market technologies to communicate via voice, share information and files easily, and view each other on-screen – all the things that will help employees accomplish their day-to-day work, as they would normally do in a physical office environment.
In the briefing series, each session, or live webinar, will be 60 minutes in length and include both a presentation and an interactive question-and-answer portion. Each session will then be recorded and available online in an on-demand fashion. Pricing is $99 per session. Registration is available now at http://www.timmarongroup.com/virtuwerk. (Group pricing is available upon request.)
Ongoing, this regular series of briefings from Timmaron Group will give organizations the confidence to better understand:

Is your company infrastructure ready for a mixed-workforce experience? Are you ready for remote user access?
How to deal with current thinking around "social distancing"
Are you culturally ready for a mixed-workforce experience? How do you address the cultural shift -- the issues around how employees transition from the physical presence to a virtual presence without negatively affecting their work product?
What are some of the related guidelines to remote work – such as, how does one practice "virtual etiquette"?
What are the techniques and metrics to test and score virtual work practices? What have others tried? What works and what doesn't?
How can a company maintain business continuity in this new remote environment?
"Our goal in launching VirtuWerk™ and this briefing series is to bring our three decades of experience to the front line, and work with companies and individuals on the pragmatic steps that allow remote work be as effective as in-office work", said Timmaron's Stinnett. "Above all, we want to assure we all can be 'present' in our work while working remotely, contributing positively, and continuing to grow professionally."
About Timmaron Group
Timmaron Group is a global technologies, consulting, and managed services organization, working with early-stage to Fortune 100 companies, and their investors. It is based in both Silicon Valley and Minneapolis. Timmaron Group's professionals bring a sensible and experienced view, provide innovative yet pragmatic solutions, and work with clients as a team member from strategy formation through execution to results. Learn more at http://www.timmarongroup.com.