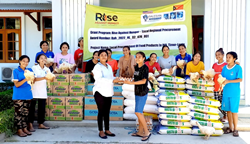 NEW ROCHELLE, N.Y. (PRWEB) March 27, 2023
Youth attending Salesian schools and youth centers in Timor-Leste had access to better nutrition thanks to a partnership between Salesian Missions, the U.S. development arm of the Salesians of Don Bosco, and Rise Against Hunger, an international relief organization that provides food and life-changing aid to the world's most vulnerable.
In the second half of 2022, Rise Against Hunger provided funding to the Don Bosco Foundation so that locally sourced food could be bought and distributed to Salesian schools and centers.
A Salesian missionary with the Don Bosco Foundation noted, "The distribution enabled many beneficiaries to improve their health, which in turn supports them in their studies and extracurricular activities, as a way to prepare them for a good future. The schools, technical and vocational training centers, orphanages, and youth centers allow hundreds to finish their elementary and junior high school to advance to senior and university studies."
One of the organizations that received the food was the Don Bosco Halicou Orphanage in Maliana, which consists of seven villages. The area is known as an important agriculture sector, especially rice production, and the population is heavily dependent on agriculture for their livelihoods.
Don Bosco Halicou was established to help orphans and people living in extreme poverty. The Don Bosco Foundation has created academic opportunities for youth and sheltered thousands of orphans. Today, Don Bosco Halicou runs the orphanage, a junior high school, and a vocational school with more than 100 students enrolled.
One recipient at the orphanage was Bosco da Consceicao Dos Santos, age 6. Dos Santos was born to a young mother who could not care for him. Due to financial problems, his grandparents could not care for him either. Dos Santos was brought to the Don Bosco Halicou Orphanage. Soon after he arrived, it was discovered that his mother passed away due to poor health. He never knew his father.
Dos Santos is in his second year of kindergarten. He is active and has received good grades in school. The food support has helped his health and focus on his studies. It has also provided him the energy to engage with his peers.
Salesian missionaries and Salesian sisters living and working in Timor-Leste operate educational programs, three orphanages for poor and homeless youth, and a medical clinic. In the wake of the devastating civil war that claimed countless lives, decimated entire communities, and resulted in living conditions that are among the worst in the world, the Salesian community has been providing programs to help residents rebuild. Efforts are focused on helping poor youth through education and providing new opportunities for the future.
###
About Salesian Missions USA
Salesian Missions is headquartered in New Rochelle, NY, and is part of the Don Bosco Network—a worldwide federation of Salesian NGOs. The mission of the U.S.-based nonprofit Catholic organization is to raise funds for international programs that serve youth and families in poor communities around the globe. The Salesian missionaries are made up of priests, brothers, and sisters, as well as laypeople—all dedicated to caring for poor children throughout the world in more than 130 countries and helping young people become self-sufficient by learning a trade that will help them gain employment. To date, more than 3 million youth have received services funded by Salesian Missions. These services and programs are provided to children regardless of race or religion. For more information, go to SalesianMissions.org.
Contact:
Laura Perillo
media@salesianmissions.org
908-406-3413 (text messages OK)
Twitter: @MissionNewswire
Newswire: MissionNewswire.org
Press room: SalesianMissions.org/press