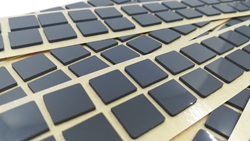 We use our expertise to help our customers stay ahead of the game in their markets.
ROCHESTER, N.Y. (PRWEB) May 13, 2021
The increasing demand for functionality in the modern electronic system has fueled the trajectory of the electronics market towards Moore's law. To meet these demands, modern systems operate with higher data rates and have a denser footprint. The downside is that more EMI issues arise, and systems have a higher demand for thermal management.
Schlegel is a leader in providing solutions that overcome even the most challenging EMI and thermal issues.
"We developed TimSorb to ensure our customers had high-performance products to overcome modern EMI and thermal management demands. As an industry leader, we use our expertise to help our customers stay ahead of the game in their markets," said Haydee Dibble, vice president at Schlegel Electronic Materials.
The dual-functional TimSorb line features:

OP-7400, a hybrid absorber/thermal management material used for premium EMI mitigation.
OP-7500, a premium grade thermal conductivity vs. OP-7400 with excellent EMI mitigation.
OP- 7600, the best of both worlds having premium EMI attenuation performance and excellent thermal conductivity.
OP-7400/7500/7600 grades are used like traditional thermal interface materials between a heat source such as an integrated circuit and heat sink or other heat transfer devices such as a metal chassis.
TimSorb adds value

A two-in-one solution for easier design, assembly, and lower cost of ownership
Improved reliability and performance of electronic devices
Improved EMC performance and lower cost to meet compliance requirements
RoHS compliant and halogen-free
TimSorb has applications across a wide range of markets, including

Consumer electronics – handset and tablet, gaming devices, UHD TV, Notebook Computers, etc.
Automotive – navigation/infotainment systems
Data infrastructure – router, optical transceiver, set-top box
Telecom infrastructure – base station
More information on the TimSorb series can be found here.
About Schlegel Electronic Materials
Schlegel has been a trusted source for high-performance custom EMI/Thermal solutions worldwide for over 100 years and invented highly conductive fabric over foam shielding gaskets in 1987. That was a breakthrough for the electromagnetic interference shielding of electronic enclosures and helped position the company as the pre-eminent manufacturer of electromagnetic interference (EMI) shielding products.
SEM offers a full range of EMI shielding products, including FOF gaskets, Absorbers, Elastomers, Thermal Interface Materials, I/O backplane shielding gaskets, BeCu Fingerstock, Conductive foams, conductive tapes, and laminates. These products enable the computer, telecommunications, military, medical, and electronics industries to meet global electromagnetic compatibility requirements (EMC).
From concept to production, SEM's complete portfolio of shielding products combines highly conductive materials with flexible foams and coatings to provide the latest EMI containment solutions.The company's world-renowned EMI shielding gaskets are available in hundreds of profiles and unique designs, with attachment options that include mechanical self-attaching, clip, rivet, and a variety of pressure-sensitive adhesives. https://www.schlegelemi.com/