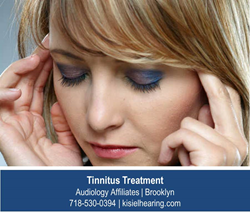 Brooklyn, NY (PRWEB) March 17, 2014
Nearly 50 million US citizens between the ages of 60 and 75 are afflicted with a hearing ailment known as tinnitus. The key symptom of ringing in the ears, which affects significantly more men than women, is hearing tones which no one else is able to hear. Tinnitus often suggests a condition manifesting within the four components of the auditory system - the outer ear, the middle ear, the inner ear, and the brain - and as a result is more of a manifestation of other issues than a disease alone. Tinnitus often appears as a co-symptom linked to other forms of either conductive or sensorineural loss of hearing, rather than being a kind of hearing loss by itself. But since tinnitus causes individuals to hear the buzzing or ringing sound constantly, this tends to have the effect of reducing an individual's absolute threshold of hearing, which makes it much harder to hear low-level sounds normally.
The audiologists at Audiology Affiliates in Brooklyn are regularly researching new tinnitus treatments to make them locally available. Tinnitus research is a very active field with many experiments and research trials launched annually. This means that people who've endured tinnitus for many years may not be always be aware of the newest solutions. Audiology Affiliates takes pride in being able to offer the most up-to-date tinnitus treatments in Brooklyn. Along with maintaining a list of currently available tinnitus treatments on their website, Audiology Affiliates team members frequently write about new breakthroughs on the company blog. Readers looking for additional information on the treatments listed here are urged to visit the website at http://kisielhearing.com or call for an appointment.
Hearing aids. People with tinnitus typically also have some level of hearing loss. The combined benefit of hearing aids is that they cover the sounds of the tinnitus while also improving hearing ability. Tinnitus sufferers making use of hearing aids often report complete or partial alleviation of tinnitus symptoms.
Maskers. Tinnitus maskers are tiny electronic devices that look like hearing aids and are adjusted to generate sound that masks or covers up the tinnitus. Numerous patients report good results with tinnitus maskers even though they don't improve hearing the way a hearing aid does.
Counseling and Relaxation. Relaxation tactics are important for tinnitus sufferers because stress makes ringing in the ears feel worse. People with tinnitus might feel anxiety, depression and other psychiatric problems for which counseling is applicable.
Medication. Medications and drug therapies have two roles to play in tinnitus treatment. Certain medications offer direct relief from the tinnitus symptoms while others are meant to target the depression and strong emotions associated with tinnitus.
About Dr. Dennis Kisiel, Ph.D
Dr. Dennis Kisiel is a highly experienced audiologist and hearing aid dispenser. Before receiving his Doctorate of Sciences in 1979 from the University of Memphis, Dr. Kisiel provided clinical services at Louisiana State University School of Medicine for two years and completed his dissertation on Tinnitus at Kresgee Research Institute of the South. For the next ten year, Dr. Kisiel served as a Director of Audiology, first at the Cleveland Speech and Hearing Center at Case Western Reserve University (1980-82) and later at the The Long Island College Hospital (LICH) in Brooklyn NY (1982-1990). In 1990, Dr. Dennis Kisiel became the owner of Audiology Affiliates in Brooklyn NY.
In 2008 Dr. Kisiel founded one of the few Tinnitus Diagnosis and Treatment Centers in New York City. He continues to be the onlycertified provider of the Neuromonics Tinnitus Treatment Program in Brooklyn. He is a Fellow-level member of the American Tinnitus Association. Throughout his career, Dr. Dennis Kisiel has authored numerous research publications, served as a university professor, and acted as consultant to the hearing aid industry and to the City of New York Public Health Programs.
About Audiology Affiliates
Audiology Affiliates serves Brooklyn, NY and its surrounding communities with a full range of audiology services including a complete range of diagnostic and preventative hearing services and hearing aids. Audiology Affiliates is committed to the continued development of their hearing aid professionals and to community education about hearing health topics. They offer regular Hearing Aid Open House programs to educate an inform Brooklyn residents about hearing loss and hearing aid technology. With over 39 years of experience, the licensed audiologist at Audiology Affiliates welcomes new and returning patients.
Contact:
Dr. Dennis Kisiel
http://kisielhearing.com
Audiology Affiliates
142 Joralemon St., Ste 6A
Brooklyn, NY 11201
(718) 530-0394