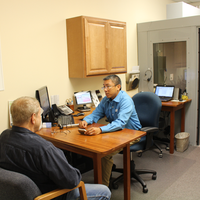 Geneva, IL (PRWEB) March 17, 2014
Nearly 50 million Americans between 60 and 75 are suffering from a hearing disorder known as tinnitus. The principal sign of tinnitus, which usually impacts more men than women, is hearing tones that nobody is able to hear. Tinnitus is usually not considered a disease in itself but an indication of something else taking place in one if not more of the four portions of the auditory system - the outer ear, the middle ear, the inner ear, and the brain. Although not a form of hearing loss per se, it can be connected to other kinds of either conductive or sensorineural hearing loss. But since tinnitus causes individuals to hear the buzzing or ringing sound continuously, this can have the effect of decreasing an individual's absolute threshold of hearing, making it much harder to hear low-level sounds normally.
Because tinnitus is such a prevalent problem in the United States and in Geneva IL specifically, the audiologists at Geneva Hearing Services are constantly looking into new treatment options. Due to the fact that many of these treatment options are relatively new, long term tinnitus sufferers may not know that new therapies are available to them. Being able to provide the most current tinnitus therapies locally in Geneva IL is a source of pride for the audiologists at Geneva Hearing Services. Along with maintaining a summary of currently available tinnitus therapies on their website, Geneva Hearing Services team members frequently write about new breakthroughs on the company blog. More information about the tinnitus treatment options in the following list is readily available on the Geneva Hearing Services website or by scheduling an appointment.
Hearing aids. Most individuals with tinnitus have some amount of hearing impairment. The dual benefit of hearing aids is that they cover the noises of the tinnitus while also improving hearing ability. Tinnitus sufferers using hearing aids commonly report partial or complete relief of tinnitus symptoms.
Relaxation and Counseling. Stress tends to make ringing in the ears feel worse, so being able to relax is extremely important. Counseling may be appropriate when tinnitus leads to depression, anxiety or other psychological problems.
Maskers. A tinnitus masker is a small electronic device that generates sounds of its own to cover up (or mask) the tinnitus. Like hearing aids, they may provide relief from the tinnitus, but won't improve hearing and can affect speech comprehension.
Drug Therapies. Drug therapies approach tinnitus on Two different levels. They are able to combat the powerful emotions and depression that are prevalent among tinnitus patients and work on directly reducing the symptoms.
About Dr. Maria Morrison AuD:
Dr. Maria Morrison is a licensed Illinois audiologist having earned her doctorate degree from the Pennsylvania College of Audiology in 2006. Before joining Geneva Hearing Services, Dr. Morrison obtained extensive clinical audiology experience in a hospital setting and as part of a private ENT practice. In addition to providing a full range of diagnostic services to discover the source of a person's hearing loss and fitting patients with hearing aids, where appropriate, Maria is one of the few audiologists in Illinois who is qualified to offer Tinnitus Retraining Therapy.
About Geneva Hearing Services
Geneva Hearing Services provides hearing healthcare to residents of Geneva, IL and surrounding communities. With four audiologists on staff, Geneva Hearing Services is able to offer the full range of audiology services including diagnostic services, preventive services and the fitting of hearing aids. For its hearing aid patients, Geneva Hearing Services offers counseling, adjustments, and regular hearing aid cleanings. Geneva Hearing Services is committed providing the latest technological advancements in the hearing industry from major manufacturers and to providing a pressure-free buying experience.
Geneva Hearing Services
http://genevahearing.com
Geneva Hearing Services
637 W State St
Geneva, IL 60134
(630) 618-2419