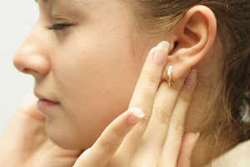 Newport News, VA (PRWEB) March 17, 2014
Ringing in the ears is a hearing condition that affects an estimated fifty million US citizens somewhere between 60 and 75 years old. More prevalent in men as compared to women, the principal manifestation of ringing ears is experiencing tones which no one else can hear. Tinnitus is usually not considered a disease in itself but an indicator of something else taking place in one or even more of the four parts of the auditory system - the outer ear, the middle ear, the inner ear, and the brain. Tinnitus more regularly appears as a co-symptom related to other types of either conductive or sensorineural hearing loss, rather than being a kind of hearing loss alone. In addition, since tinnitus fills the ears with a regular base level of ever-present noise, it lessens the absolute threshold of hearing and will make it increasingly difficult to listen to faint sounds "over" the continual buzzing or ringing.
The audiologists at Maico Audiological Services in Newport News, VA are constantly researching new tinnitus treatments to make them available locally. Due to the fact that many of these therapies are relatively new, individuals who've endured tinnitus for an extended time are often unaware that new treatments have been introduced. Maico Audiological Services takes pride in being able to offer the most current tinnitus therapies in Newport News, VA. Aside from maintaining a list of currently available tinnitus treatments on their website, Maico Audiological Services staff members frequently write about new breakthroughs on the company blog. More information about the tinnitus therapies in the following list is available on the Maico Audiological Services website or by scheduling an appointment.
Hearing aids. People with tinnitus typically also have some amount of hearing loss. Hearing aids can provide the double benefit of enhancing hearing ability while also covering the noises of tinnitus. Tinnitus patients making use of hearing aids commonly report complete or partial relief of tinnitus symptoms.
Maskers. Tinnitus maskers are tiny electronics that resemble hearing aids and are tuned to generate sound that cover up the tinnitus. Tinnitus maskers are an excellent option for many individuals, offering relief from the tinnitus. However, they have been known to interfere with comprehension of speech.
Relaxation and Counseling. Stress makes ringing in the ears feel even worse, so being able to relax is very helpful. Individuals with tinnitus might feel depression, anxiety and other psychological problems for which counseling is applicable.
Medicine or drug therapy. Medication-based therapies approach tinnitus on Two different levels. They can combat the strong emotions and depression that are prevalent among tinnitus sufferers and work on directly reducing the symptoms.
About Dr. Mavis Garrett
Dr. Mavis W. Garrett received her Bachelor's and Master's Degree from the University of Virginia in 1980 and 1982, respectively. In 2003, she earned her Doctorate in Audiology (AuD) from AT Still University in Arizona.
Dr. Mavis Garrett holds licenses in both Hearing Aid Dispensing and Audiology from the Commonwealth of Virginia and is a fellow with the American Academy of Audiology. Dr. Garrett is a member of the American Speech Language and Hearing Association and holds the Certificate of Clinical Competence in Audiology (CCC-A). Dr. Garrett eagerly seeks continuing education to remain current on the latest advances in hearing loss prevention, diagnostics and treatment.
About Maico Audiological Services
Maico Audiological Services is committed to improving the quality of life for all people with hearing loss. For more than 20 years Maico Audiological Services has provided professional audiology care to the residents of Newport News, Chesapeake and Smithfield VA. Maico Audiological Services is pleased to offer a full range of diagnostic and preventive hearing healthcare services including hearing aid screenings, hearing evaluations, rehabilitative counseling and preventative care. Maico Audiological Services prides itself on developing long-term relationships with patients and providing unparalleled personal service that begins the first time a patient walk through the doors and continues long after the initial appointment.
Contact:
Dr. Mavis Garrett
http://maicoaudio.com
Maico Audiological Services
703 Thimble Shoals Blvd., Suite C-3
Newport News, VA 23606
(757) 847-5444
Maico Audiological Services
1021 Eden Way North Ste 110
Chesapeake, VA 23320
(757) 383-8787
Maico Audiological Services
1702B S Church Street
Smithfield, VA 23430
(757) 356-5069