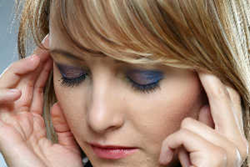 Phoenix, AZ (PRWEB) March 31, 2014
About fifty million Americans between the ages of 60 and 75 are afflicted with a hearing ailment generally known as tinnitus. The main manifestation of ringing in the ears, which usually disturbs considerably more men than women, is hearing tones which nobody is able to hear. Tinnitus quite often suggests a condition manifesting in one of the four portions of the auditory system - the outer ear, the middle ear, the inner ear, and the brain - and therefore could be more of a manifestation of other issues than just a disease itself. Tinnitus more frequently appears as a co-symptom linked to other forms of either conductive or sensorineural loss of hearing, instead of being a kind of hearing loss by itself. In addition, because tinnitus fills the ears with a regular base level of ever-present noise, it reduces the absolute threshold of hearing and means it is challenging to listen for faint sounds "over" the constant buzzing or ringing.
Because tinnitus is such a widespread issue in the U.S. and in Phoenix in particular, the audiologists at Arizona Balance & Hearing Associates are regularly researching new treatments. Tinnitus research is a very active field with many studies and research trials conducted each year. Consequently, long-time tinnitus sufferers may not be always be aware of the current options available. The ability to offer the most up-to-date tinnitus therapies locally in Phoenix is a source of pride for the audiologists at Arizona Balance & Hearing Associates. To better disseminate tinnitus therapy information they've created a list of tinnitus therapies on their website and regularly blog about fresh developments in the field of tinnitus research. Readers interested in additional detail about the treatments listed below are urged to visit the website at http://azbalanceandhearing.com or call for an appointment.
Hearing aids. Most people with tinnitus have some degree of hearing loss. Hearing aids can provide the double benefit of improving hearing ability while also covering the noises of tinnitus. Tinnitus patients using hearing aids often report partial or complete relief of tinnitus symptoms.
Maskers. Tinnitus maskers are small electronic devices that look like hearing aids and are tuned to generate sound that masks or covers up the tinnitus. Many patients report good success with tinnitus maskers even though they don't enhance hearing the way a hearing aid does.
Relaxation and Counseling. Relaxation tactics are important for tinnitus sufferers because stress tends to make tinnitus seem worse. Counseling may be appropriate when tinnitus leads to anxiety, depression or other psychiatric problems.
Medicine or drug therapy. Some tinnitus sufferers experience anxiety or other strong emotional responses to their tinnitus. Certain drug treatments may provide relief from these emotional reactions and give some relief from the tinnitus.
About Dana Day, Au.D., MBA
Dana Day, Au.D. is the owner and founder of Arizona Balance & Hearing Associates and has been practicing audiology in Phoenix and Maricopa County since 1985. Dr. Day received her doctorate degree from A.T. Still University, Arizona School For Health Sciences. She is licensed in the State of Arizona and fully accredited with the American Speech-Language-Hearing Association. She earned her Bachelor's of Science Degree from Arizona State University, her Master's Degree from Colorado State University, and her MBA from Arizona State University. While at CSU, she worked an externship at 2nd General Army Hospital in Landstuhl, Germany and then completed additional training in Omaha, Nebraska at Boys Town Hospital for Communication Disorders in Children.
Dr. Day is active in education by teaching at the university level, collaborating on concussion care, guest speaking at the Barrow Balance Symposium, and is a clinical supervisor to 4th year doctoral students. She enjoys her work and values the opportunity to help her patients achieve the best hearing and balance healthcare.
About Arizona Balance & Hearing Associates (ABHA)
Well established throughout the Greater Phoenix area and beyond, ABHA offers world class clinical services in hearing and balance (vestibular) testing, pediatrics, and neurodiagnostics. There are three A.S.H.A.-certified audiologists on site.
Founded back in 1995, Arizona Balance & Hearing operated as the outpatient Balance and Hearing Center on the campus of St. Joseph's Hospital and Medical Center. In January 2004, office expansion caused them to relocate across the street from St. Joe's. ABHA still enjoys a strong professional working relationship with St. Joseph's and the Barrow Neurological Institute, as well as the majority of Neuro-Otologists, Oto-Neurologists, Otolaryngologists (Ear, Nose and Throat), Internal Medicine practitioners and Pediatricians in the area.
Contact:
Dr. Dana Day
azbalanceandhearing.com
Arizona Balance & Hearing Associates
333 W. Thomas Rd
Ste 208A
Phoenix, AZ 85013
(602) 281-4095