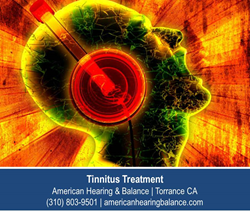 Torrance, CA (PRWEB) February 27, 2014
Ringing in the ears is a hearing condition which impacts an estimated fifty million Americans somewhere between 60 and 75 years of age. The main characteristic of tinnitus, which generally strikes more men than women, is hearing sounds that no one else is able to hear. Tinnitus is generally not viewed as a disease in itself but an indicator of something else taking place in one or maybe more of the four areas of the auditory system - the outer ear, the middle ear, the inner ear, and the brain. Although it is not a type of loss of hearing by itself, it can be related to other types of either conductive or sensorineural hearing loss. In addition, since tinnitus fills the ears with a sustained base level of ever-present sound, it brings down the absolute threshold of hearing and makes it more challenging to hear faint sounds "over" the constant buzzing or ringing.
The audiologists at American Hearing & Balance in Torrance CA are constantly investigating new tinnitus treatment options to make them locally available. Since many of these therapies are fairly new, individuals who've lived with tinnitus for many years are often unaware that new treatments have been introduced. Being able to offer the most current tinnitus treatments locally in Torrance is a source of pride for the audiology team at American Hearing & Balance. To better disseminate tinnitus therapy information, they've compiled a list of tinnitus treatments on their website and often blog about new breakthroughs in the field of tinnitus research. Readers looking for further information on the treatment options listed below are encouraged to visit the website at http://americanhearingbalance.com or call for an appointment.
Hearing aids. People with tinnitus generally also have some level of hearing loss. Hearing aids create a dual benefit of improving hearing and masking the tinnitus. Tinnitus sufferers using hearing aids commonly report partial or complete relief of tinnitus symptoms.
Counseling and Relaxation. Being able to relax is extremely helpful if the ringing in your ears irritates you. Stress makes tinnitus feel worse. People with tinnitus may experience depression, anxiety and other psychological problems for which counseling is applicable.
Drug Therapies. A number of tinnitus sufferers experience anxiety and other strong emotional responses to their tinnitus. Selected drug treatments may provide relief from these emotional reactions and offer some relief from the ringing in the ears.
Maskers. Tinnitus maskers are tiny electronics that look like hearing aids and are adjusted to generate sound that cover up the tinnitus. Tinnitus maskers are an excellent option for many individuals, providing relief from the tinnitus. The downside is that they have been known to affect understanding of speech.
About Dr. Keith Michaels, Au.D.
Dr. Keith Michaels, Doctor of Audiology and Hearing Instrument Specialist at American Hearing & Balance, received his Masters Degree from California State University, Los Angeles and his Doctorate in Audiology at Florida University. Dr. Michaels has helped fit thousands of people with hearing aids and loves to work with people who have problems with their balance and/or vertigo.
About American Hearing & Balance:
American Hearing & Balance is a family owned business providing superior hearing healthcare services in Los Angeles and surrounding communities with seven offices in Los Angeles, Manhattan Beach, Santa Monica, Marina del Rey, Westchester, Torrance and Glendale. They offer a full range of diagnostic and preventative hearing healthcare professional services, including hearing tests, hearing aid sales, and rehabilitative and counseling services for those with hearing loss. Additionally, American Hearing & Balance stocks all the most common hearing aid accessories including cleaning supplies, hearing aid batteries and cell phone adapters. American Hearing & Balance is dedicated to keeping abreast of the latest improvements and technological advancements in the hearing industry and is committed to offering the most current options to patients.
Contact:
Dr. Keith Michaels
americanhearingbalance.com
American Hearing & Balance
3875 Wilshire Blvd, Suite 302
Los Angeles, CA 90010
(213) 536-4543
American Hearing & Balance
2809 North Sepulveda Boulevard
Manhattan Beach, CA 90266
(310) 803-9700
American Hearing & Balance
1318 2nd Street, Suite 1
Santa Monica, CA 90401
(310) 773-3972
American Hearing & Balance
4640 Admiralty Way, Suite 1020
Marina del Rey, CA 90292
(310) 773-4453
American Hearing & Balance
6229 West 87th Street
Westchester, CA 90045
(310) 803-9848
American Hearing & Balance
20911 Earl Street, #470
Torrance, CA 90503
(310) 803-9501
American Hearing & Balance
633 North Central Avenue
Glendale, CA 91203
(818) 396-8161