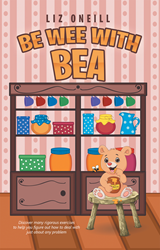 BROOKLINE, Vt. (PRWEB) November 27, 2018
How can children learn to cope with serious issues they may be living with? Bea the wee bear has some ideas. Author Liz O'Neill has introduced Bea in her debut book, "Be Wee with Bea," a simple but powerful story explaining how Bea deals with issues such as bullying, body image and PTSD.
Bea is addicted to eating honey, and so she exercises on her stepstool to stay healthy. She also gets into predicaments when she cares too much about her friends and tries to force situations. She learns how to cope from her angst and anxiety that stems from being bullied as a young child.
Readers will also meet Bea's important friends—Scruffles, Sweet Puppy, Timothy, and Willow—who serve as a support system on her journey to wisdom and peace in the book.
"I was inspired by Winnie the Pooh as well as some of my own life experiences," said O'Neill. "20 years after I dreamt up Bea the bear, I completed the book."
O'Neill wants young readers to be equipped with plenty of tools and "brain exercises" of their own to cope with traumas in their lives, such as body image issues or bullying. "Bullies are liars," said O'Neill. "I want every child to know they are beautiful and worthy inside and out."
Parents will love that "Be Wee with Bea" teaches children how to deal with insecurities. Young readers will learn the importance of friendship and taking a minute to reset and think things through.
"Be Wee with Bea"
By Liz O'Neill
ISBN: 978-1532030628 (softcover); 978-1532030611 (electronic)
Available at the iUniverse Online Bookstore and Amazon
About the author
Liz O'Neill, a third generation Vermonter, spent 28 years in a religious community and has a master's in education with a minor in language arts. She also taught middle-grade writing and literature for 20 years. She has written curricula for her undergraduate and graduate courses in her local college, where she taught for seven years. She is currently working on two other books. One is "Be Wee With Bea Pt. 2" and the other is called "A Particular Friendship." To learn more, please visit http://www.beweewithbea.com.
Contact:
LAVIDGE – Phoenix
Kalin Thomas
480-648-7540
kthomas(at)lavidge(dot)com