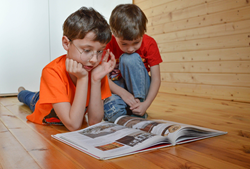 "With a looming back-to-school deadline a few weeks away, we want to help families build backyard classrooms that provide a dedicated learning environment for kids without costing families tens of thousands in renovations."
DECATUR, Ga. (PRWEB) July 28, 2020
Golley Houses has designed an affordable tiny house that can be used as a backyard classroom for families struggling to find space for homeschooling and remote learning during COVID-19. As back-to-school approaches, a growing number of schools are moving to remote learning only. There is also an increasing number of parents opting to homeschool their children during the pandemic.
Complicating matters is the rise in the number of adults already working from home. Working parents are also organizing co-ops with nearby families and hiring their own teachers to educate small groups of children, but need enough space for children to meet. As a result, many families are scrambling to prepare at-home learning environments for children.
"Not everyone is comfortable sending their kids to school this fall, but some families simply do not have the space for educational activities to take place at home, especially if one or both parents have transitioned to working from home. Some schools are opting for remote-learning only and families are unexpectedly forced to do school at home," said Frank Golley, broker/owner of Golley Realty Group LLC, and founder of Golley Houses. "With a looming back-to-school deadline a few weeks away, we want to help families build backyard classrooms that provide a dedicated learning environment for kids without costing families tens of thousands in renovations."
According to Powerhouse Homeschool, "a dedicated learning space can make it easier for children to concentrate on schoolwork." The organization suggests making the space comfortable, fun, and organized. For many families, this means the dining room table or couch are not suitable environments for learning. A tiny house backyard classroom is one solution to providing a dedicated learning space for children.
The basic Golley House is 10 feet wide and 16 feet deep and can be assembled by three to four people in as little as one to two days. Planned add-ons include a window and door package; a loft material package; kitchen cabinet layout and product selection for several different styles; bathroom layout with toilet and shower fixtures; cut sheet for materials needed to build different exterior style treatments; and an interior materials list for finishing the interior in several styles such as: farmhouse, rustic, arts and craftsman, contemporary and Tudor.
Golley Houses can be customized with modern amenities such as running water and climate control. Tiny homes are small enough to fit in many homeowners backyards and give students a dedicated space to work that does not overlap with their parents' home offices. Tiny houses are also extremely versatile, meaning that today's homeschool could be tomorrow's home office, artist studio, in-law suite, Airbnb rental, home gym or college dorm.
With the cost of tiny houses decreasing significantly, adding a tiny house backyard classroom is an affordable alternative to home renovations, which can cost $30,000 or more and take months to complete. A basic Golly House kit is $17,000, plus an average of $8,000 in finishing costs. The foundation for the tiny house must be installed prior to assembly based on local building codes.
The space can be customized for children with child-size furniture and other touches that promote learning such as a reading corner, a science lab, a math station or art studio. Parents can also design the exterior of the tiny house to promote outdoor learning. For example, window boxes or a raised garden can be used for science projects. Bird feeders can draw local wildlife for study or entertainment. A rain gauge and weather vane can fuel science lessons. Playsets can facilitate physical education and a picnic table or hammock can be used for eating or relaxation.
A seasoned realtor and long-time resident of Decatur, Georgia, Golley is an expert on the housing issues facing today's homeowner and buyer. He created The Golley House as a simple, green housing solution that could be used for additional living space.
For tips on how to build a tiny house backyard classroom, visit http://www.golleyhouses.com.
About The Golley House
The Golley House is a modular, environmentally friendly tiny house flat pack kit that provides a cost-effective, easily-assembled solution for alternative housing. The Golley House can be assembled by three to four people with limited construction experience in a matter of days. The Golley House's materials are both green and modular. Its components allow buyers to create custom, energy-efficient housing for a fraction of the cost of adding a room to their home or building a new home. The use of structural insulated panels reduces construction waste and creates a highly energy efficient environment. For more information, visit us online at http://www.golleyhouses.com.