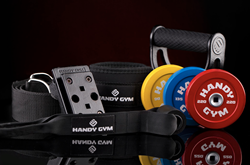 With Handy Gym, anyone can achieve a total body workout that's easier on the body than weightlifting, and it's completely portable.
VIGO, Spain (PRWEB) September 13, 2019
Using the same training methods developed by NASA for astronauts to use while in orbit, Handy Gym is the inertial training tool for everyday people to achieve sculpted, strong muscles without lifting weights. After raising more than $386,000 during its 40-day Kickstarter campaign, Handy Gym has moved into production and over to Indiegogo's InDemand platform to continue taking pre-orders.
"Though I initially developed Handy Gym to provide fitness solutions for people for whom weightlifting was not an option, I quickly realized how many people would benefit from this tool," said Manuel Montes, CEO of Micaton, creator of Handy Gym. "With Handy Gym, anyone can achieve a total body workout that's easier on the body than weightlifting, and it's completely portable."
Handy Gym is perfect for a variety of fitness levels and exercises. By using a combination of handles and mounts, Handy Gym can be used to perform more than 200 exercises. Target specific muscle groups or achieve a full body workout with this one small piece of equipment.
To customize the resistance for muscle groups or fitness levels, Handy Gym uses a system of three interchangeable discs — yellow, blue or red — to achieve varying inertia levels. Yellow discs provide the least resistance, blue provide medium resistance, and red provide high resistance - up to 220lbs. The lower resistance discs are ideal for smaller muscle groups, like arms and shoulders or for those newer to fitness routines. Higher resistance discs are best suited for large muscle groups including legs and back or for those who are more advanced in their fitness regimen.
Allowing for fitness on the go sets Handy Gym apart from the rest. Weighing in at 28 ounces, it's compact enough to fit inside a backpack or suitcase and assembles in seconds. With a complementary smartphone app, users can track their training and monitor improvements over time. Sensors within Handy Gym also convey real-time workout data including caloric burn. Handy Gym is available to pre-order starting at $510 by visiting the InDemand campaign page.
About Micaton
Micaton is a team of fitness enthusiasts and serial entrepreneurs who believe in creating smarter devices for smarter and more effective fitness and training experiences. This Spanish startup was born in 2018 with the aim of creating, developing and putting into value a new training solution that allows for exercising anywhere and at any time. Micaton uses the latest technology and apply the highest quality standards in its solutions. For more information, visit https://handygymfit.com/.