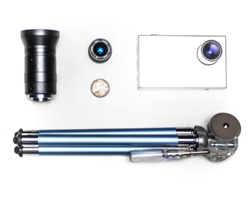 We want the everyday person to pick up a Tiny1 camera and be able to take images of the Milky Way and Northern lights - Grey Tan, TinyMOS CEO
Singapore (PRWEB) June 07, 2016
In four hours, TinyMOS has managed to raise their funding goal of $100,000 on their Indiegogo Campaign page. The Tiny1 camera, a small and user friendly astronomy camera, attracted over 400 backers to reach their funding goal. With the campaign on the astronomical rise, it is a candidate to watch for breaking the million dollar milestone.
TinyMOS promises to bring astronomy exploration into the hands of the masses. At a launch price of US$349, the early bird rewards were snapped up by enthusiasts and supporters within hours. The small and portable camera is designed to reduce cost, complexity and weight. It is also reputed to be comparable to existing astronomy imaging setups costing a few thousand dollars.
Tiny1 was the brainchild of founder, Grey Tan. He was frustrated by his inability to capture the Milky Way, spanning horizon to horizon, despite years of photography knowledge and possessing a professional DSLR camera.
"We want the everyday person to pick up a Tiny1 camera and be able to take images of the Milky Way and Northern lights - sights that they may only get to see once in their life. They will now be able to share the beautiful sights with their friends and family." said Grey Tan, TinyMOS CEO.
"Professional astronomers will now have an excellent, portable device to scout new astronomy locations." added Lih Wei, TinyMOS CTO, "Tiny1 ends the age-old dilemma of deciding between more gear or better-but-more-inaccessible locations. Exploring new astronomy locations also puts exploration of the Earth within the context of exploring space. "
The camera is built with advanced technologies including, a real-time star map for pointing guidance, capture presets to assist in imaging and WiFi AC to allow file sharing and control via smartphones.It also allows geo-tagging of locations and setting up and coordinating star parties.
"The camera is designed to build astronomy communities. Stargazing used to be a lonely hobby; driving hours to find pristine night skies away from civilization often means doing it alone. With the Tiny1, now people can share locations and setup gatherings more easily", says Ashprit, CTO of TinyMOS.
TinyMOS may just revolutionise space exploration of tomorrow. Interested parties are encouraged to support the Tiny1 campaign early to enjoy the limited sets of The Tiny1 Camera at early bird prices.
About TinyMOS
TinyMOS was founded in April 2014. Its product the Tiny1, described as "Hubble in your hands" by ex-NASA Scientist, is designed to bring astronomy imaging to the masses, by making it simple and affordable. Tiny1 uses advanced sensor technology and patent pending processes to enable assisted capture and processing. The company is crowdfunding on Indiegogo at get.tinymos.com