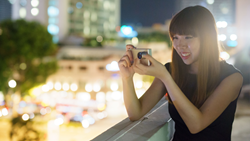 "The positive search report confirms the novelty and usefulness of our core technologies." - Grey Tan, TinyMOS CEO
Singapore (PRWEB) July 05, 2016
Singapore startup TinyMOS achieved astronomical success on Indiegogo with Tiny1 - the world's smartest astronomy camera. Tiny1 promises to be the only exploration camera anyone needs. It helps stargazers capture the Milky Way and more without any prior knowledge of astronomy or photography. It does all that in a small and portable form factor, a revolution from previous astronomy cameras.
The camera captured imaginations of adventurers and stargazers alike, with backers coming in from USA, UK, Singapore, Japan, Hong Kong and more. The young camera company looks to expand its presence worldwide with the positive crowdfunding ending soon. The rosy outlooks is well founded as TinyMOS also received a positive patent search report on their core technologies.
"The positive search report confirms the novelty and usefulness of our core technologies. It will give us an edge in low light imaging fields, regardless of the imaging sensor used." says Grey Tan, TinyMOS CEO.
TinyMOS' Indiegogo campaign will end at 9 am PDT on 6th July 2016. Tiny1 camera with kit lens can be pre-ordered at $399 for the next 30 hours, till the end of the campaign. This package will be priced at $449 in the next stage of pre-orders, and $699 at retail next year.
About TinyMOS
TinyMOS was founded in April 2014. Its product the Tiny1, described as "Hubble in your hands" by ex-NASA Scientist, is designed to bring astronomy imaging to the masses, by making it simple and affordable. Tiny1 uses advanced sensor technology and patent pending processes to enable assisted capture and processing. The company is crowdfunding on Indiegogo at get.tinymos.com