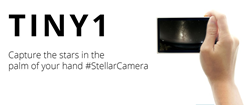 We are very excited to announce the price for our crowdfunding campaign. It's two years of work and a great leap towards space exploration, in the hands of the masses - Grey Tan, CEO and Founder of TinyMOS
(PRWEB) June 06, 2016
TinyMOS, a Singaporean company creating what is known as "Tiny1 - The world's smallest, smartest and most social astronomy camera" announced its price today for the Indiegogo crowdfunding launch.
Tiny1, a handheld camera which aims to replace bulky, complex and expensive astronomy setups for the everyday stargazer, will begin its campaign tomorrow, 6th June 2016 at 7am PST. The Tiny1 will be available starting at $349 (US). The price is a boon to enthusiasts, compared to multi-thousand dollar setups common to the interest group.
Backers will also be able to name a star after themselves by contributing more than $20 in an Easter egg version of the searchable star map.
"We are very excited to announce the price for our crowdfunding campaign. It's two years of work and a great leap towards space exploration, in the hands of the masses" said Grey Tan, CEO and Founder of TinyMOS.
The camera was conceived as a solution to the founder's personal frustrations. "I was a working photographer carrying a professional DSLR when I saw the Milky Way for the first time. I was unable to capture the sight and share it.", said Grey. "The capture settings, location of the Milky Way and post processing was done over different brands of hardware and software solutions. It is just too difficult." he adds.
Tiny1 claims to solve astronomy's complexity from start to finish. "We designed automation from the planning, pointing, capture… all the way to post processing. It's a seamless solution in one device", said TinyMOS CTO, Chia Lih Wei. "We made use of the latest technology and patent-pending solutions to make Tiny1 simpler and easier to use.", he adds.
"We want to build the astronomy community. The camera will seamlessly connect to your smartphone, to share your images or plan star parties. We have already reached out to several hundred astronomy societies for feedback and collaboration" said Ashprit Singh, COO TinyMOS.
Education and research institutions are encouraged to contact TinyMOS for education pricing.
Compared to telescopes, tethered cameras and DSLRs, the Tiny1 appears to be a contender in a niche market ripe for innovation.
Interested parties are encouraged to sign up on Indiegogo prior to the TinyMOS crowdfunding launch to enjoy the limited sets of The Tiny1 Camera at $349.
About TinyMOS
TinyMOS was founded in April 2014. Its product the Tiny1, described as "Hubble in your hands" by ex-NASA Scientist, is designed to bring astronomy imaging to the masses, by making it simple and affordable. Tiny1 uses advanced sensor technology and patent pending processes to enable assisted capture and processing. The company is crowdfunding on Indiegogo at get.tinymos.com