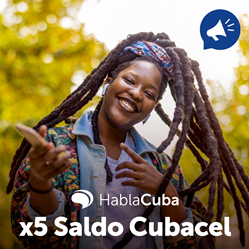 ATLANTA (PRWEB) January 10, 2023
To help Cubans worldwide start the year off right, HablaCuba.com launches a new promo for international mobile recharges sent to Cubacel mobiles: 5 times the balance sent between January 9 - 14. And that's not all. The validity of the balance covers 330 days, so almost the entire year. This translates into more data they can use to surf the web and get connected, more calls, more texts. Thanks to this promo, 2023 seems to start in a talkative mood.
The Cubacel top ups are rewarded as follows:

For 500 CUP get 2500 CUP
For 600 CUP get 3000 CUP
For 700 CUP get 3500 CUP
For 1000 CUP get 5000 CUP
For 1125 CUP get 5625 CUP
For 1250 CUP get 6250 CUP
For 2000 CUP get 10000 CUP
For 2500 CUP get 12500 CUP
Special terms and conditions for this deal:

A customer can receive several top-ups in this promotional period and this balance accumulates in the principal balance wallet.
With the balance received in the promotion, the client will be able to carry out all the approved actions: National and international calls, purchase of bags, packages, Data plans, - Minutes and SMS, customers can make transfers, activate the Amigo plan.
Customers can make multiple recharges, as long as they do not exceed the maximum amount established for your main account and for bonuses.
Maximum limit: Main account 500,000 CUP.
As long as this condition is met, customers will be able to recharge and will receive the sum of the main balance. If these figures are exceeded, customers will not be able to continue recharging.
After a recharge has been made during the promotional period, the user receives a notification with the following text: "You received a recharge of XXXX.XX CUP. Transaction YYYYYYY. By this promotion 5X balance, you have XXXX.XX CUP".
Besides sending top ups, customers can also recharge their family's and friends' Nauta accounts, in order to help them gain access to the internet. Or, if they prefer calling to say "Hello" personally, they can also use HablaCuba.com's calling services. Customers can place their calls:

From any landline, mobile or even payphone in the world, through access numbers.
Through the smartphone app called KeepCalling, available for iOS and Android.
The rate for international calls to Cuba is 69.9¢/min, for both landlines and mobiles, and the cost of a text message is 7¢.
All services HablaCuba.com offers revolve around the website's mission, which is to bring people together, no matter the distance, no distance is too long if people stay connected.
About HablaCuba.com
HablaCuba.com is an interactive website designed by KeepCalling, a global telecommunications company registered in 2002 in the USA. Presently, KeepCalling provides its services to hundreds of thousands of consumers, with a focus on customer satisfaction. KeepCalling has been listed by Inc 5000 as one of the fastest growing companies in the USA for 5 consecutive years. In 2015 the company registered a revenue increase of over 200% from 2011 to 2014.