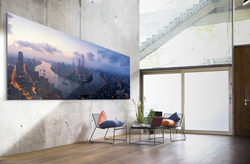 The fact that we're receiving this important award for the third time naturally fills us with pride and shows that four years of research, development and testing have paid off
NEW YORK (PRWEB) April 15, 2020
After selecting online photo lab WhiteWall as "best photo service" in 2013 and "best photo lab" in 2017, an international jury of journalists at TIPA (Technical Image Press Association) once again selected WhiteWall as "best photo lab worldwide" for its TIPA World Award in 2020. The German-based photo lab was selected as best photo lab for its new product innovation, WhiteWall Masterprint, the first of its kind in the world and a technological revolution in fine art printing.
The TIPA jury released the following statement regarding its decision to present the award to WhiteWall: "The WhiteWall Masterprint does full justice to the visions of photographers and artists who use professional, high-resolution cameras and lenses. Thanks to an exclusive fine art paper and a printing system developed under the direction of Whitewall engineers, photo prints up to 180 cm wide (71 inches) can be produced. Seamlessly printed with Epson pigment inks and sealed under a single piece of 4mm gallery acrylic glass, these impressive prints, available in sizes up to 500 x 180 cm (197 x 71 inches), display an unprecedented breadth of color and detail.
"The fact that we're receiving this important award for the third time naturally fills us with pride and also shows that we live up to our motto 'the best'", says Alexander Nieswandt, founder and managing director of WhiteWall. "Four years of research, development and testing have paid off. With the WhiteWall Masterprint, we demonstrably stand out from all other photo finishing service providers, because it's something we offer exclusively. This will cement our important place in the global market," he added.
Every year, the members of the Technical Image Press Association (TIPA), consisting of editors from 26 renowned photography magazines, vote for the best photo and imaging products of the last 12 months. This makes the TIPA World Awards the most important awards in the photo industry representing the very best in innovation, application of the latest technologies, design, ergonomics and ease of use.
To see all winners of the TIPA World Awards 2020 please check: https://www.tipa.com/en-en/awards/tipa-world-awards-2020.html.
About WhiteWall
WhiteWall is a brand of WhiteWall Media GmbH, which has been operating the photo lab and online photo service provider WhiteWall.com since 2007. As a three-time winner of the TIPA World Award for best photo lab worldwide, amateur and professional photographers around the world appreciate WhiteWall's outstanding and premium quality. All photographic work and all products are produced and shipped exclusively in Frechen, near Cologne.