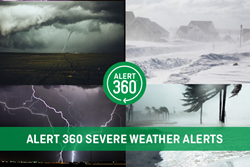 As providers of life safety, property protection, security and home automation services, we dedicate each second, every day to helping safeguard homes, families, pets and property, and our commitment and caring only intensifies during hard times. Said Richard Ginsburg Alert 360 president and CEO
TULSA, Okla. (PRWEB) February 13, 2019
Alert 360, the fifth largest provider of security systems and smart home services to residential customers in the United States, understands how hard winter storms and other natural disasters can hit and impact home and small business owners.
"After providing home security services for nearly 50 years, we know that winter storms, hurricanes, natural disasters, power outages, flooding, and evacuations can be chaotic, scary, and exhausting for our families, friends and customers," said Richard Ginsburg, president and CEO, Alert 360. "Before an emergency strikes, we hope to help all homeowners prepare and to remind Alert 360 customers that we're here to help 24/7. We also hope the following information and tips related to power outages and your alarm system are helpful should you experience an issue."
Alert 360 suggests the following tips for weathering any storm season, preparing for an emergency, and knowing how a home security system works during adverse weather.

Review our previous blog, "It's National Preparedness Month," for numerous tips and resources available from the American Red Cross, Ready.gov, and more;
Prepare in advance of a winter storm or natural disaster: Use the resources and tips from our previous blog to put together an emergency supply kit; create a family emergency plan; learn about different emergencies that can occur in your area; become trained or involved in community preparedness and response efforts, and learn what local organizations can help when disaster strikes;
Tune to local news and social media;
Include your home alarm service as part of your planning to stay safe during an emergency;
Use your smartphone, mobile security app, and wireless smart video to check in remotely.
In the event of a power outage and if your home is not severely damaged, your wireless security system will continue to operate. Depending on the service you have monitored by your alarm monitoring company, your system can alert you to a variety of hazards, such as fire, break-ins, extreme temperature changes, and the presence of water or carbon monoxide. If you're evacuated, remote alarm and security video monitoring would also allow you to check in using your mobile device or laptop to see if all is well at home. If your system includes smart home automation options , use it to turn off – or on – appliances while you're away; and
Along with battery-powered lights, a first aid kit, important phone numbers, non-perishable foods and extra batteries, include a fully charged mobile power bank in your emergency kit so that you can maintain cellphone service; and
Ensure you know how to contact your local utility provider to report a power outage quickly. Check to see if they offer a mobile app for quicker reporting and to view an outage map.
Following are the most-asked questions from customers with security systems and alarm monitoring services – along with answers relating to Alert 360's services – and how to troubleshoot your alarm system during a low-battery alert:
How Does My Alarm Service and Backup Battery Work During a Power Outage?
Most alarm systems are equipped with backup power supplies in the form of a rechargeable battery. However, during an extended power outage, the backup battery may signal a low charge through an illuminated indicator and/or a trouble beep. The low-battery charge status does not affect normal alarm operations until the battery power becomes too low to operate the panel. If power is restored within 12 – 24 hours, the battery should start recharging.
What Do I Do When My Alarm Panel is Beeping and Indicates "Low Battery?"
At Alert 360, when we receive a low-battery status signal from your system at our national alarm monitoring center, typically we will call to ensure you are aware, to check if help is needed, and to assist you in silencing the trouble beep. In addition, following are troubleshooting steps you can take – or things to be aware of – when your system is reflecting a low battery and prior to calling your alarm provider if help is needed.
How to Troubleshoot your Alarm System During a Power Outage or Low-Battery Alert
When your Alarm System Loses Power or Shows a Low Battery Alert
If you have had a power outage in the past 12 hours, the battery may need to charge. When power to the location is restored, call us if the trouble light doesn't go out after 24 hours of power being restored. If there have been no power outages and there is electricity present at the location, please ensure the system's transformer is still connected to a working outlet. If the transformer is connected to a GFCI outlet, please then ensure the reset button on the outlet is pressed and functional. Check to make sure the breaker switch that is connected to this outlet does not need to be reset. To test if the outlet is functional, please unplug the transformer, and plug in another device to test for power.
How to Know if your Alarm System is Working During or After a Power Outage
Alarm systems receive primary power from an outlet at the location. If the system's AC adapter is not supplying power, the system will temporarily run on backup battery for up to 12–24 hours. If there is no power at the location and your battery backup has been depleted, we will need to wait until power is restored to troubleshoot. When power is restored to the location, the battery will recharge itself. This may take up to 12–24 hours to complete. Once power is restored, please review the steps in the first bullet above.
"As providers of life safety, property protection, security and home automation services, we dedicate each second, every day to helping safeguard homes, families, pets and property, and our commitment and caring only intensifies during hard times," said Ginsburg. "We'd like to remind homeowners that most alarm monitoring and home security systems providers are available and happy to help either during a power outage or once power is restored. Alert 360 customers should not hesitate to call our Technical Support team anytime day or night. We also offer specific home security and alarm system manuals and videos in the support section of our website at Alert360.com.
"During any major storm or natural disaster, our thoughts especially are with the thousands of families and small business owners we serve and our own Alert 360 team members in the areas impacted."
Alert 360's complete line of home security, business security, energy management, smart home and automation services include Alert 360® interactive security, a free mobile app, smart home video, remote access, water detection devices, video doorbells, 24/7 alarm monitoring, plus professional installation or integration of connected devices that include sprinkler systems, thermostats, sound systems, Amazon Echo, Google Home and more.
The company also offers a leading Authorized Alarm Dealer program. Learn more at Alert360.com.
Dealer inquiries: Travis Miller, Travis.Miller(at)alert360.com Phone: 888-848-8851
Media inquiries: Robin Jacobson Lampe, Robin(at)WindCommunications.com Phone.: 785-221-6569
About Alert 360
Founded in 1973 in Tulsa, Okla., and evolving from Guardian Security Systems and Central Security Group, Alert 360 is one of the nation's oldest-licensed alarm monitoring providers. Today, the company is the fifth largest provider of monitored security and smart home solutions to homes in the United States.
Alert 360 operates a monitoring and customer service center in Tulsa, Okla., and has offices in 17 cities. The company has achieved Five Diamond alarm monitoring designation and also has been named a 2016 Inc. 5000 "Fastest-Growing Privately Held Company in America" and a "Best Places to Work in Oklahoma" in 2016, 2017 and 2018.