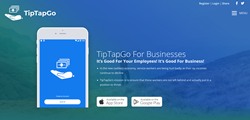 TIP-TAP-GO TIP: "Give your Employees a raise, enhance your Customers' experience, improve your Associates teamwork, at no cost to your business! Get going with TipTapGo!"
COLUMBUS, Ohio (PRWEB) March 06, 2019
TipTapGo announced today that it has launched a new tipping program designed specifically for businesses that employ associates who receive cash tips as an integral part of their overall compensation. In the new cashless economy, service workers are being hurt badly as their tip incomes continue to decline, resulting in significant employee compensation and retention challenges for employers. This issue is compounded further because cash tips slow down register lines, are more susceptible to theft, robbery and counterfeiting, and result in higher admin costs to count, reconcile, deposit and share.
TipTapGo-For-Business is the answer to all of these challenges. Service associates working at valets, hotels, golf courses, beauty salons, barbers, shuttle services or any service business benefit from TipTapGo in several important ways by: (1) Minimizing missed tips because a customer isn't carrying cash or has the wrong denominations; (2) Increasing the volume of tips by accelerating customer flow through payment or checkout lines; and (3) Providing an opportunity to earn additional referral fees through the TipTapGo Referral Program.
And Employers are big winners too as the TipTapGo-For-Business program benefits businesses in several important ways:
New Employee Benefit – TipTapGo allows employees to make more money, representing a new, attractive, free addition to a company's Employee Benefit Plan.
Better Teamwork – With a shared, virtual tip jar and opportunity to make more money, associates are highly motivated to work together and succeed as a team.
Improved Experience – TipTapGo delivers a simple, fun new tipping process for customers that is as fast and anonymous as cash but much more convenient and secure.
Compliance – TipTapGo provides transaction reports to make it easy to account for, distribute and report associates' tip income and ensure minimum wage compliance.
When pulling up to a major coffee franchise's drive-through in Dublin, Ohio, a customer wanted to leave a tip but didn't see a tip jar. When he asked the associate working the window where the tip jar was, she revealed, "We had to bring it inside because yesterday the wind had blown all of the bills out of the jar, leaving a good-hearted customer scrambling out of their car to retrieve as many as he could track down for us." She went on to confide: "And you won't believe this…a few weeks ago, a man in a car in line took his coffee from the associate and then quickly grabbed the tip jar and drove off."
TipTapGo-For-Business makes it easy for customers to download the TipTapGo App by providing Posters with a QR Code they can scan with their phones and be directed to a simple download and registration process that takes less than a minute to complete. And once the customer has downloaded the App, it takes less than 10 seconds to tip an associate after that. And through its Admin Module for businesses, TipTapGo makes it easy for businesses to establish their profile, track and account for team tips, and equitably distribute them to their associates, while ensuring compliance with minimum wage requirements.
"We are excited to launch TipTapGo-For-Business," said Alan Rudy, CEO of TipTapGo. "We are committed to help service businesses protect the viability of their associates' compensation in this challenging new cashless world we find ourselves operating in."
About TipTapGo:
TipTapGo is a mobile app development company specializing in online micro-payments. It's mobile tipping solution is comprised of: (1) a mobile app used by Tippers and Tippees (service workers) to execute tip transactions; and (2) a web app used by companies who employ service workers who earn tip income to administer the organizational profile and tipping business roles.