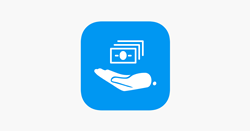 "With fewer people carrying cash, my tip earnings shrunk significantly over the past few years," said Scott, a valet in Columbus Ohio. "But with TipTapGo I'm starting to get tips I would have previously missed and I'm starting to build up my referral income with TipTapGo for years to come."
COLUMBUS, Ohio (PRWEB) February 11, 2019
TipTapGo announced today that it has launched a new tipping app with the same name. TipTapGo was developed with the primary goal of helping the nearly 5 million service workers in the U.S. who work for tips but who are becoming casualties of the new, rapidly emerging "cashless" economy. A U.S. Bank survey found in 2017, that only 50 percent of Americans carried cash with them and of those that did, they only carried it about half the time. Further compounding the problem for service workers is that people that do carry cash often don't have enough cash or the right denominations to leave their desired tip amount.
Service workers can transition from victim to victor in the new cashless society by downloading and using TipTapGo. The App download process is simple and fast, generally taking less than 15 seconds. Once a customer has downloaded the TipTapGo App and added their credit card info, they simply pull out their phone, click on the service worker's avatar or screen name they want to tip, select the tip amount they want to give, and tap the "Pay Now" button. The tip amount is instantly posted to the worker's account with no fees deducted. The tip amount and small service fee is deducted from the Tipper's account. All users can monitor their deposits, withdrawals and tip transactions right in the App, as well as manage their profile, payment methods and notifications settings.
"I hate it when I get to the airport to catch an early morning flight and realize that I only have large bills or forgot to bring cash altogether and can't tip the valet or porter. I feel like such a heel," said Chris, frequent business traveler. "With TipTapGo, I no longer have to be 'that guy' and can always graciously reward service workers who assist me."
Both Tippers and Tippees can earn additional money through TipTapGo's Referral Program. By simply tapping the "Share App" banner at the bottom of the App Home Page, users can easily share TipTapGo with their contacts via email, text or social media accounts. When sharing the App, the user's referral code is automatically attached to the TipTapGo accounts of any of their contacts that download TipTapGo from their referral link. The referring user earns a nickel ($0.05) for every tip made or received by anyone they refer to TipTapGo. And there's more, they earn an additional penny for every tip made or received by any user who was referred to TipTapGo by someone they referred.
"With fewer and fewer people carrying cash, my tip earnings shrunk significantly over the past few years," said Scott, a valet in Columbus Ohio. "But with TipTapGo I'm starting to get tips I would have previously missed and I'm starting to build up my referral income with TipTapGo for years to come."
About TipTapGo:
TipTapGo is a mobile app development company specializing in online micro-payments. It's mobile tipping solution is comprised of: (1) a mobile app used by Tippers and Tippees (service workers) to execute tip transactions; and (2) a web app used by companies who employ service workers who earn tip income to administer the organizational profile and tipping business roles.