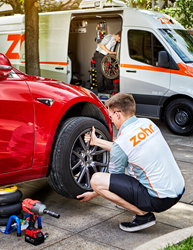 As the tire market opportunity continues to increase nationwide, it is important for Tire Agent to find like-minded companies to work with. Zohr's growth in its local markets and commitment to customer satisfaction aligns perfectly with Tire Agent's mission," said Jared Kugel
NEW YORK (PRWEB) November 19, 2021
Tire Agent, a technology-driven tire and wheel retailer changing the way people purchase and replace tires is expanding its mobile tire installation network in Missouri and Texas through a strategic relationship with mobile tire service company Zohr, set to launch in Q1 2022.
The new relationship with Zohr comes on the heels of another mobile installation service partnership between Tire Agent and GoMobile Tires, announced in November 2021. Tire Agent's install network growth is another step forward in delivering the company's vision of affordable, high-quality service that allows customers nationwide to drive safely.
Customers will not only have access to Tire Agent's vast selection of quality tires at unbeatable prices; they will also benefit from a complete catalog of mobile tire services, saving time and hassle. Zohr's ASE-certified technicians bring the tire shop to customers' homes, the office, or any location of their choice.
With Tire Agent, traditionally white-glove service is made affordable with a variety of payment options to fit each customers' unique budget needs. Safety, quality, and convenience are available to the masses with as little as no money down. Customers can also select weekly or bi-weekly payments.
"As the tire market opportunity continues to increase nationwide, it is important for Tire Agent to find like-minded companies to work with. Zohr's growth in its local markets and commitment to customer satisfaction aligns perfectly with Tire Agent's mission," said Jared Kugel, CEO and founder of Tire Agent.
In its mission to make life easier through better service, Zohr offers next-day installation. With most services completed in under an hour, tire replacement can be as simple as pushing a button. Services include tire replacement, tire installation, flat tire repair, tire rotation, TPMS services, and fleet services.
"At Zohr, we believe in delivering the highest quality tire services to drivers of all vehicle types. We're very excited to partner up with TireAgent, enabling more consumers to take advantage of our convenient services," said Komal Choong, CEO and founder of Zohr.
Zohr is rapidly expanding, already servicing major metropolitan areas including Kansas City, Dallas-Fort Worth, Houston, and Austin. The venture-backed startup is supported by notable investors like Trucks Venture Capital, Expansion Venture Capital, and Techstars.
About Tire Agent
Tire Agent is an online tire and wheel retailer changing the way people purchase and replace tires by making the experience for consumers and fleets seamless. We offer affordable tires for everyone through flexible payment options with our proprietary product, PayPair. Tire Agent is an authorized retailer for the majority of top-tier brands, allowing special deals and rebates to be passed on to customers. Enjoy fast delivery and free shipping from the only tire and wheel retailer offering the best in affordability, selection, and ease of purchase. Tire Agent is based in New York, New York. Learn more at https://www.tireagent.com/
About Zohr
Zohr started in 2015 with an empty cargo van, a few tools, and a vision to repair the tire service industry. We've since upgraded our fleet of vans, but our core mission remains the same: Offer a simpler way to get your tires changed. Zohr comes to your home or office to install, repair, or refinish your tires. With next-day installation available and most services performed in under an hour, we satisfy customers in and around the Kansas City, Dallas-Fort Worth, Houston, and Austin metropolitan areas. We also recycle all used tires. Zohr is headquartered in Kansas City, Missouri. Learn more at https://zohr.com/