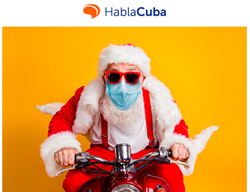 ATLANTA (PRWEB) December 15, 2020
Christmas is just around the corner and although it can't look the same this year, people should do their best to keep a sense of normality. Adapt their tradition to social distancing, create new online ones, not losing hope that it will soon get better. In the middle of all this chaos, staying in touch with family and friends is key. On that note, HablaCuba.com launches a series of promos designed to help their customers keep connected.
The Christmas promo fiesta starts on December 15. For 3 days, customers who place a Voice Credit order using code XMASLIGHTS get a 10% bonus, for (at least) 10% longer calls this December and not only. The same day, customers are invited on HablaCuba.com Facebook page, to share the most valuable lesson they learned this year and get the opportunity to win one of the 3 free top ups. The contest is open until December 20 and the winners will be picked randomly on December 21. One promo leaves the scene to make room for another one, this time for international top ups sent to Cubacel mobiles. All international mobile recharges above 20 CUC get a bonus as follows:
20 CUC - 30 CUC Bonus
25 CUC - 30 CUC Bonus
30 CUC - 30 CUC Bonus
40 CUC - 60 CUC Bonus
50 CUC - 60 CUC Bonus
60 CUC - 90 CUC Bonus
75 CUC - 90 CUC Bonus
80 CUC - 120 CUC Bonus
The entire amount (main balance and Bono Dinero) can be used for:
National and international calls
National and international texts (including SMS entumóvil)
ONLY THE MAIN BALANCE transferred can be used for purchasing 3G plans:
400 MB for 5 CUC
600 MB for 7 CUC
1 GB for 10 CUC
2.5 GB for 20 CUC
4 GB for 30 CUC
Besides sending top ups, customers can also recharge their family's and friends' Nauta accounts, in order to help them gain access to the internet. Or, if they prefer calling, they can also use HablaCuba.com's calling services. Customers can place their calls:
From any landline, mobile or even payphone in the world, through access numbers.
Through the smartphone app called KeepCalling, available for iOS and Android.
The rate for international calls to Cuba is 69.9¢/min, for both landlines and mobiles, and the cost of a text message is 7¢.
All services HablaCuba.com offers revolve around the website's mission, which is to bring people together, no matter the distance, no distance is too long if people stay connected.
About HablaCuba.com
HablaCuba.com is an interactive website designed by KeepCalling, a global telecommunications company registered in 2002 in the USA. Presently, KeepCalling provides its services to hundreds of thousands of consumers, with a focus on customer satisfaction. KeepCalling has been listed by Inc 5000 as one of the fastest growing companies in the USA for 5 consecutive years. In 2015 the company registered a revenue increase of over 200% from 2011 to 2014.