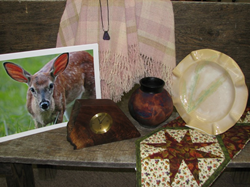 Holiday shopping should be a joyful experience and the Tennessee River Valley is filled with crafters and artisans selling a mix of fine arts and hobby crafts.
KNOXVILLE, Tenn. (PRWEB) November 19, 2019
With the holiday shopping season quickly approaching, the Tennessee River Valley Mapguide has compiled a list of places for those searching for unique artisan gifts and handmade crafts while avoiding the holiday madness found at big-box retailers.
"Holiday shopping should be a joyful experience and the Tennessee River Valley is filled with crafters and artisans selling a mix of fine arts and hobby crafts," said Julie Graham, spokesperson for the Tennessee River Valley Stewardship Council. "Along with finding a special gift that the recipient will not already have, shoppers will be supporting a local business and community."
Here is a roundup of places to buy artisan gifts and handmade crafts in the Tennessee River Valley.
Located in Norris, Tenn., the Appalachian Arts Craft Center has been around for 40 years supporting local, East Tennessee arts and handicrafts by selling artists' work in the shop and offering year-round classes to people in the area as well as visitors. Everything in the shop is handmade by local artists, and the shop is almost completely volunteer run. Visitors can also tour the weaving, quilting and pottery studios.
Located in Ocoee, Tenn., near the foothills of the Appalachian Mountains, Appalachian Bee offers artisan honeys, handcrafted soap and natural skincare products that contain beneficial elements from the beehive.
The country store at Mountain Hollow Farm, a cashmere goat farm located on the historic Vancel Mill property about an hour north of Knoxville, is filled with yarn, fine handcrafts, loose leaf tea, gourmet food mixes and goat's milk soap.
Located two blocks from the historic Natchez Trace Parkway, right behind the Wayne County Welcome Center in Tennessee, the Dragonfly features locally created arts and crafts, including Beech Creek Gourds, fine art, antiques and unique gifts. Offering a true emporium experience, the locally-owned shop also serves specialty coffees and smoothies as well as offers clothing and accessories for ladies.
Housed inside the office of the Polk County News in downtown Benton, Tenn., the Newspaper Book Shop features art and other handcrafts produced by local residents including pottery, watercolors, photography, purses, jewelry, candles, soaps, aromatherapy, bags crocheted from grocery bags as well as local honey. Utilizing the files of the Polk County News, the bookshop also offers historical and genealogical information, community histories and a wide variety of heritage photo reprints including old school groups, church groups, buildings, copper mining and more. Books from local authors, books of regional interest and used books are also available.
Cabinfever Arts, Crafts and Museum features the work of artists and crafters from the Sequatchie Valley. Located just west of Pikeville, Tenn., the gallery is housed in a quaint cabin and items available for purchase include locally made woodwork, jewelry, paintings, afghans, hand-painted rain barrels and more.
Located in historic Mooresville in North Alabama, 1818 Farms offers a nice assortment of bath products and gifts. The products are all handmade, hand-packaged and include therapeutic grade ingredients.
The Tennessee River Valley offers a compelling story, captivating visitors with its little unknown facts, pristine, untouched areas and rich, authentic experiences. Save trip ideas and plan a trip easily with the Tennessee River Valley Geotourism MapGuide, an online guide of authentic places and adventures that have been recommended by locals. For more information on unique shops in the Tennessee River Valley, click here.